Macquarie Sport Scholar retains number one national ranking in fencing
4 April 2014
Macquarie University student and category one sport scholarship holder, Lishan Sung, has returned from the Open National Fencing Tournament in Melbourne at the top of her game, winning her second consecutive gold medal.
"Winning this meant I could retain my number one Australian Open National Ranking," said Sung.
Soaring to new heights in her sporting career, the Sport Scholar is currently ranked number one in Australia in the Opens, Under 23, and Junior categories for fencing.
In a long list of impressive results, Sung was the Australian Open National Champion (Individual and Team), Australian Junior National Champion (Individual and Team) for four consecutive years (2009-2012), the China Open National Amateur Champion, and the Hong Kong Junior National Champion.
It seems as though no achievement is too high for the aspiring Olympic contender, "I also represented Australia at the Olympic qualifiers in 2012 amongst other major international championships."
Following a number of podium finishes in the lead up to 2014, Sung's dream of a first place finish finally came to fruition in the first two Australian Open National Tournaments of the year, receiving a gold medal at each event.
This year Sung is aiming to improve her ranking in the Asian Senior Zone and compete at the next University Games. Looking further ahead, she hopes to qualify for the 2016 Olympic Games in Rio de Janeiro. Academically, Sung is looking to compliment her sporting pursuits with her first year studies in a Bachelor of Commerce with Bachelor of Arts – Psychology degree.
Filed under: Campus news Featured Sport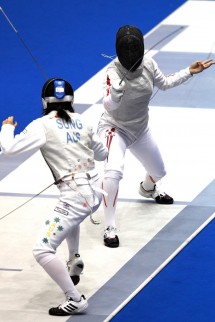 View by category