New art exhibition collates treasures across Macquarie University museums and collections
18 March 2014
The exhibition AFFINITIES: 7 Museums, 50 objects dissolves the walls between museums to expose, celebrate and give voice to the multiple connections that exist between diverse collections.
In this exhibition, one of a number of special displays in celebration of the University's Golden Jubilee Year, the University's museums and collections have joined together to reveal their interdisciplinary relationships and through their most exciting pieces. Curating this multifaceted display is a team of more than 20 curators, researchers and academics.
Stretching from the ancient world to the contemporary landscape, Macquarie University's extraordinary museums and collections hold treasures that reflect the human journey, unveiling stories and insights into a diversity of cultures and societies. In so doing, it also reveals the tastes and values that have shaped Macquarie University's collections since the institution's foundation in 1964. Included on public display for the first time is the Lewis Morley Library archive, a recent donation to the University.
Professor John Simons, Executive Dean of the Faculty of Arts points out that "Macquarie University is blessed with a range of collections reflecting the interests of its Collegiate body and, in this Jubilee Year, it seemed appropriate to celebrate those assets, both physical and intellectual, with an exhibition that brought together objects from across the range of our holdings."
According to Andrew Simpson from the Faculty of Science, arguably "the oldest museum in terms of a familiar structure was, in fact, a university museum (Oxford University Ashmolean Museum which opened in 1683)."
Furthermore, Simpson embraces the belief that "university museums are an open doorway for community access to the campus" and that "the modern university is 'of' its community not just 'in' its community".
Rhonda Davis, Senior Curator at the Macquarie University Art Gallery and curatorial coordinator of the Affinities exhibition readily agrees.
"Through its museums and collections, and the highlighting of their interdisciplinary relationships, people can enter the rich, diverse world of university research ranging from objects of the everyday, both contemporary and thousands of years old, to scientific specimens and objects of fine art… what they will discover is the kaleidoscopic colour, resonant beauty and beguiling curiosity of the world in which they live, work and play."
AFFINITIES: 7 Museums, 50 Objects at the Macquarie University Art Gallery (Building E11A) will be officially opened by the Hon. Michael Egan, AO, Chancellor of Macquarie University, on Thursday March 20. The exhibition runs for an extended period through to May 25. Opening Hours Mon–Fri 10am – 5pm; Sat 10am – 4pm. 
Filed under: Faculty of Arts Featured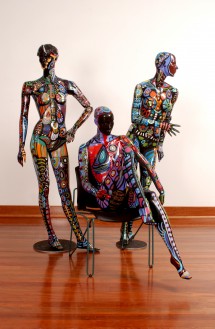 Media contact
02 9850 1055
View by category