Macquarie University student selected to represent Australian University Sport at FISU Forum
13 March 2014
Macquarie University Student, Ahad Malik, has been selected to represent Australian University Sport at the 2014 International University Sports Federation (FISU) Forum in Gwangju, Korea from 17 – 22 March.
Regarded as a networking platform to advance the technical, social and cultural skills of young leaders, the FISU Forum brings together students, officials and other key partners involved in the university sport movement and combines academic sessions with cultural, educational and sporting activities.
As a fourth year student in his final Session of a Bachelor of Arts (Psychological Science) with a Bachelor of Commerce (International Business), Ahad believes his close affinity to the Macquarie University Hockey program has given him "the opportunity to have access to many other aspects of sport including involvement at University Games, team management and leadership positions within Sport Clubs."
In addition to a plethora of accolades, including an astounding six University Games appearances, UniSport Manager of the Year 2012 Award, UniSport Player of the Year 2013 Award, and the appointment of Men's Hockey Team Manager for two consecutive years, Ahad reinforces his belief in a balanced approach to university life, affirming that through his studies, combined with his sporting ambitions, he has "developed many professional interests including cross-cultural and organisational management," and improved skill sets, "providing effective and accurate information flow between players, coaches, different organisational bodies and the University."
Prior to completing his final year at university, Ahad's appreciation for the important role played by Australian University Sport throughout his university experience, as well as the personal development gained in various leadership capacities is most accurately summed up in the closing statement of his FISU application:
"Now in my final year of university, where my experience is both highly appropriate and diverse, is the best time for me to give back to the community at Australian University Sport that has provided me so much support and opportunity for so long."
For further details on how to get involved in the various sport programs available at Macquarie University, please visit Macquarie University Sport. For more information on the 2014 FISU Forum, please visit FISU Forum 2014.

Filed under: Campus news Sport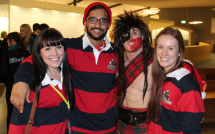 View by category