Emeritus Professor Ron McCallum awarded Honorary Doctorate
18 February 2014
One of Australia's most respected lawyers and prominent human rights advocate, Professor Ron McCallum, has been awarded an Honorary Doctorate from Macquarie University, during a graduation ceremony for the Faculty of Business and Economics.
Ron has lead a successful career as a legal academic and teacher, in 1993 becoming the first totally blind person appointed to a full professorship at any Australian university as Professor in Industrial Law at the University of Sydney.
Born in Melbourne, Ron attended schools for the blind and was the first member of his family to complete Year 12. At Monash University McCallum studied via other students reading aloud to him or by listening to tapes. He graduated with a Bachelor of Jurisprudence in 1970 and a Bachelor of Laws in 1972, before completing graduate studies in law at Queen's University in Canada.
McCallum returned to Monash in 1974 to begin a teaching career that would eventually span the next 36 years, and cover the fields of administrative law, public law and labour law.
McCallum commenced at the University of Sydney in January 1993 as the foundation Blake Dawson Waldron Professor in Industrial Law. He retired from this position in 2007, but then served as a Professor of Labour Law at Sydney's Faculty of Law from 2008 to 2010. The following year the Faculty appointed him an Emeritus Professor.
Throughout his life, Professor McCallum has worked to help people with disabilities towards fulfilling and successful lives. He has held roles as Chair of Radio for the Print Handicapped of New South Wales, Deputy Chair of Vision Australia, and as Chair of the United Nations Committee on the Rights of Persons with Disabilities.
He received the Centenary Medal from the Australian Government in 2003, and in the 2006 Queen's Birthday honours list, received the designation of Officer in the Order of Australia for his services to tertiary education, for industrial relations advice to governments, for assistance to visually impaired persons and for social justice.
Ron was named New South Wales Senior Australian of the Year for 2011. Ron is married to Professor Mary Crock and they have one daughter and two sons.
Filed under: Events Featured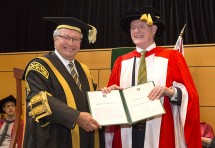 View by category