Sport scholar selected for Sochi Winter Olympic Games 2014
7 February 2014
Macquarie University Sport Scholar and Bachelor of Arts student Lucy Glanville has been selected to represent Australia at the upcoming 22nd Winter Olympic Games held in Sochi, Russia.
Competing in the women's biathlon, Lucy's selection has secured her place in sporting history as only the third female Australian to compete in this event at the Olympics since Nagano 1998.
In total, Australia will be represented in ten of the 15 Olympic sports on offer of which, Glanville will add to a 60-strong Australian team comprising a record number of 28 university athletes.
While Lucy's hard work and intensive training has finally secured her place in the world's most prestigious sporting event, the biathlete's Olympic campaign was not all smooth sailing in the lead up to selection. In fact, despite achieving strong competition results at the recent Winter Universiade, Glanville's spot on the Olympic team was tested when she was forced to eagerly await the decision for seven higher-placed countries to forego their athlete allocations – which luckily worked out in her favour.
Prior to this, Lucy's thirst for international sporting excellence was recognised when she was nominated for the Female Athlete of the Year Award at the Macquarie University Blues Awards in 2013; an excellence also well acknowledged by Lucy's personal support network – "this has been her best and most consistent shooting of the season so far," said Lucy's mum, Toni Hulme.
When asked about her goals for Sochi, Lucy humbly stated "race the best I can and gain experience for the 2018 Winter Olympics".
Preparations for the big event will extend beyond the sporting arena. Ahead of Lucy's Sochi representation, the talented athlete has begun learning Russian as part of her Bachelor of Arts at Macquarie University.
For more information on Lucy's Olympic campaign, see http://sochi2014.olympics.com.au/athlete/lucy-glanville
Filed under: Sport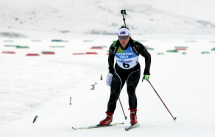 View by category