A story behind every piece; new exhibition at Macquarie University Art Gallery has jewellery telling tales
5 February 2014
Art exhibition Transplantation: A sense of Place and Culture features the work of twelve contemporary jewellery artists from the UK and Australia, and explores the theme of place and cultural identity arising from their personal and family experiences of "transplantation".
Jewellery offers an art form that provides a means of recording memory and experience in a portable and wearable form. The unique medium presents new ways to express ideas, thoughts, and concerns captured by the artists, who have been selected to create up to three pieces of work each to articulate the notion of "transplantation" in a tangible form.
Each artist in this exhibition has their own experience of cultural, familial and artistic transplantation of one sort or another, which they have drawn on to create work which is powerful, engaging and thought-provoking.
The exhibition features works by:
Jivan Astfalck, London                                            Anna Davern, Melbourne
Norman Cherry, Lincoln                                           Rosanne Bartley, Melbourne
Jack Cunningham, Birmingham                                Joung-Mee Do, Melbourne
Laura Potter, London                                               Nick Bastin, Melbourne
Lin Cheung, London                                                Sheridan Kennedy, Sydney
Jo Pond, Derby                                                        Bridie Lander, Sydney/Birmingham
Curator Professor Norman Cherry from the University of Lincoln hopes that "visitors will be engaged, challenged and delighted… and think about their own cultural sense of place and perhaps re-evaluate it.
"Perhaps they will come to think about jewellery in a different way, not simply as something decorative to wear, to indicate status or wealth, or to match the day's outfit, but an eminently portable, wearable artform with its own stories, histories and metaphors."
Rhonda Davis and Leonard Janiszewski, curators at the Macquarie University Art Gallery, are both delighted and excited that the gallery has been afforded the opportunity to host this internationally touring exhibition to kick-start the University's 50th anniversary year.
"This is going to be a year of tantalising aesthetic surprises at Macquarie University Art Gallery, and this exhibition certainly sets the mood to explore, re-examine and overindulge the senses," states Davis.
Transplantation: A sense of Place and Culture opens at the Macquarie University Art Gallery (Building E11A) on 10 February and runs through to 7 March. From 12 March to 11 April the exhibition will be on display for an extended period at the Macquarie University Library (Building C3C) exhibition space.
Transplantation is a travelling exhibition developed by the University of Lincoln, assisted by the National Centre for Craft and Design and funded by Arts Council England. In Australia it is toured by Museum and Gallery Services Queensland.
Filed under: Events Featured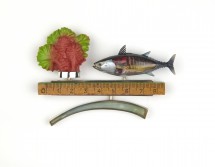 Media contact
02 9850 1055
View by category