Sydney's history brought to life in colour
6 December 2013
The latest exhibition at Macquarie University Art Gallery allows audiences to travel back in time with a series of colourful paintings that breathe life into the history of some of Sydney's oldest suburbs.
History in Colour: David Lever Exhibition features a new series of paintings by artist David Lever, which capture glimpses into the way Sydney-siders once lived. Residents from local communities, particularly around Berowra or Brooklyn areas, will barely recognise their local landmarks.
The exhibition records street life as it might have appeared between 1900 and 1950 in a series of 44 evocative paintings. David Lever's work is based on early photos or newspaper reports, giving his work historical authenticity as it depicts people going about their daily business. However, he has gone extra lengths to achieve an authentic colour palette.
Lever says, 'As early photos are usually in black and white I have researched colours. For building colours I have used early paint colour charts and even examined the first levels of paint chips from actual buildings. The colour of the advertising signs I have painted are also as they were.'
Lever's dedication to tracking down difficult-to-locate records is worth the effort, resulting in a captivating series of paintings that open up the past, and offer a new visual record of life as it was.
The exhibition is now open, closing Monday December 23, re-opening on Monday January 13 .
An Artist Floor talk will be hosted on Wednesday 11 December,11am at the University Art Gallery.

Filed under: Faculty of Arts Featured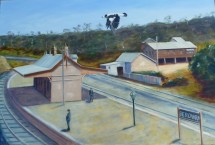 Media contact
02 9850 1055
View by category