White Ribbon Day at Macquarie University
25 November 2013
In keeping with its commitment to the elimination of violence against women, Macquarie University is recognising White Ribbon Day today, Monday, 25 November.
White Ribbon is the world's largest male-led movement to end men's violence against women. Through primary prevention initiatives and an annual campaign, White Ribbon Australia seeks to change the attitudes and behaviours that lead to and perpetuate men's violence against women, by engaging boys and men to lead social change.
As part of the creation of a campus environment that is safe and free from violence for all members of the University community, Macquarie is proud to be a participant in the White Ribbon Workplace Accreditation Pilot Program that empowers and supports workplaces to prevent and respond to violence against women.
The Vice-Chancellor, Professor S Bruce Dowton has been appointed a White Ribbon Ambassador, to lead the change in culture, practices and procedures at Macquarie. Other members of the Macquarie Executive who are following his lead and becoming White Ribbon Ambassadors include Professor Sakkie Pretorius (Deputy Vice-Chancellor, Research); Professor Clive Baldock (Executive Dean, Faculty of Science); Dr Paul Schreier (Chief Operating Officer); Professor John Simons (Executive Dean, Faculty of Arts); and Tim Sprague (Director, Human Resources).
Other Macquarie men who have taken the White Ribbon oath can be seen here.
For more information on White Ribbon at Macquarie University visit the website.
Filed under: Uncategorized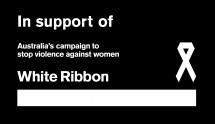 View by category