Macquarie University grows market development activities in Asia and the Indian sub-continent
13 November 2013
Macquarie University has engaged Grok Education Services to further develop Macquarie's presence and profile in Asia and the Indian sub-continent.
Designated local teams based in Beijing and New Delhi (delivered via partner company Sannam S4), will support and service Macquarie's education agent network in China and India, its relationships with schools, and partnerships with strategically important and globally respected academic institutions.
"China and India are two of the world's pre-eminent international education markets," commented Professor Mark Gabbott, Pro-Vice Chancellor International at Macquarie. "Establishing an in-country presence through highly-respected service providers, Grok and Sannam S4, will help Macquarie be more responsive and agile in these key markets."
"As one of Australia's leading modern universities, and also one of its most internationalised, Macquarie has a distinguished reputation in Asian markets," said Grok CEO Kim Morrison. "We are pleased to enter into this partnership, which will enable Macquarie to draw on our extensive expertise and delivery capabilities in China, as well as the advisory and operational support of our Indian partner, Sannam S4."
Macquarie University Vice-Chancellor, Professor Bruce Dowton, said the University already had deep, long-lasting relationships in India and China, established over many years, which the new partnerships would help to grow.
"We are among Australia's leading providers of education for international students. Around one third of our undergraduate and postgraduate enrolments have come from overseas, and a similar proportion of our research students are international," he said. "Under this arrangement, students wanting to come to Macquarie from India and China will have even easier access to information about the high quality education we offer, and we will be able to more easily reach out to our alumni and friends to engage with us in our work."
Filed under: Uncategorized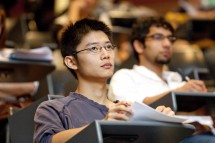 Interview contact
Nicola Bate
02 9850 1190
View by category