Macquarie University Sport awarded gold for quality
4 November 2013
At a ceremony of fitness industry professionals last Friday night, Macquarie University Sport received a GOLD Quality Award from Fitness Australia, the fitness industry's peak body, for its proven ability to provide quality service across its business.
Fitness Australia's Health and Fitness Industry Quality Awards promote and celebrate industry excellence and the work the fitness industry does in helping Australians get and stay fit and healthy. This year, 68 fitness businesses across Australia were granted a Quality Award.
The GOLD Quality Award is granted to a fitness business that has achieved quality in customer service, programs, people, safety and business management.
"Macquarie University Sport should be proud of its achievement; the Quality Awards are the highest accolade that our industry can award to a fitness provider. Macquarie University Sport's customers can be confident that they are with one of the very best fitness providers in the country" " said Ms Lauretta Stace, Chief Executive Office of Fitness Australia.
"We are honoured to receive this award," says Cindy Hoad, General Manager Sport & Recreation. "It demonstrates the passion and commitment of the staff at Macquarie University Sport and their dedication to delivering a high calibre health and fitness experiences to both the campus and local community.
"With more than 60% of Australian adults estimated to be overweight or obese and the consequent increase in chronic conditions, the fitness industry has a vital role to play in the health of our community. This award is proof that we deliver a quality service and are committed to raising the bar even higher," said Ms Hoad.
Macquarie University Sport operates a number of venues at the University's North Ryde campus:
The Macquarie University Sport & Aquatic Centre is a multi-purpose fitness venue offering everything from a state of the art health club, swim school, gymnastics arena, swimming pools, social sport competitions, martial arts programs, school holiday and school sport programs, sport clubs and squash courts.
The Macquarie University Sport Fields offer high quality fields for winter and summer sports along with 12 tennis courts – including Australia's only Swiss, Italian and American clay courts.
Filed under: Campus news Sport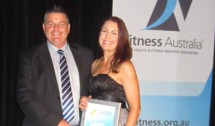 View by category