Elite athletes recognised at 2013 Blues Awards
4 November 2013
At the Macquarie University 2013 Blues Awards ceremony last week, 17 athletes were recognised for their outstanding achievements representing Macquarie University, their state or nation – both on and off the field – across the past year.
Ten athletes were awarded the highly prestigious Full Blues Award and four received a Half Blues Award. Five more athletes received recognition with other awards, including the honoured Chancellor's Award – the highest individual sporting award presented by Macquarie University.
The Full Blues winners were; Elisa Barnard (Archery), Donald Cameron (Swimming), Lachlan Doyle (Kiteboarding – Surfing), Damian Fitzpatrick (Rugby – Professional), Jacqueline Green (Sprint Canoe), Andrew Hudson (Sailing), Jason King (Rugby League – Professional), Stephanie O'Connor (Equestrian), Serena Reid (Water Polo), Chloe Wilson (Sports Aerobics).
The Half Blues winners were; Mathilda Carmichael (Hockey), Michael Wells (Rugby), Alison Borrows (Canoe Slalom) and Robert Crawford (Sailing).
Both the Chancellor's Award and the Female Sport Athlete Award of the Year were received by Elisa Barnard for her outstanding achievements in archery throughout 2012-2013. Currently ranked first place in archery in Australia, Elisa retained her winner's title in the Australian Open Championships earlier this year, being the only archer to have won the event for three consecutive years. Elisa qualified her selection in the Australian squad for London 2012 Olympic Games after a year of outstanding performances while achieving a GPA of 3.8 in her studies for a Bachelor of Arts – Psychology with the degree of Bachelor of Laws.
Ben Madgen, although not in attendance, received the Male Athlete of the Year Award for his efforts as co-captain of the Sydney Kings basketball team while completing an MBA with the Macquarie Graduate School of Management. Ben had a very successful 2013 season, including highlights such as being named NBL Most Improved Player of 2013 and runner up Most Valuable Player. Ben was also nominated NBL All-Star and selected in the Boomers national team to compete in China.
The Ted O'Keeffe Scholarship was awarded to Chloe Wilson for her achievements in sports aerobics while simultaneously achieving excellent academic results.
The John Lincoln Services Award, which recognises long term volunteer service to a Sport Club, sport program or Unisport event, was presented to Stephen Gianniotis. Stephen has been a member of the Macquarie University Soccer Club for over 20 years as well as a committee member for over 15 years. Stephen has also fulfilled the role of President for the past 12 years, holding the position of Treasurer various times.
"It was an extremely successful night" said Cindy Hoad, General Manager Sport and Recreation, "17 exceptionally talented and bright Macquarie University students received well-deserved recognition for their achievements both in the sporting and academic arenas".
The recognition didn't stop at Macquarie's current generation of sporting elite – "In conjunction with the awards ceremony we also launched our brand new Sporting Hall of Fame Exhibition, titled 'Our Sporting Pride: 1988-1998'. The exhibition celebrates the achievements of a selection of alumni who helped shape the delivery of the high calibre sporting programs that exist today at Macquarie", according to Ms Hoad.
The Master of Ceremonies for the evening was Channel 7 Sports Presenter, Ryan Phelan, with entertainment provided by 4th year Macquarie University Media Student, Grace Elliott, and jazz singer/songwriter Emma Hamilton.
The Macquarie University Sport and Aquatic Centre's Sporting Hall of Fame Exhibition will be open until November 2014.
For more information, contact: Jean Posthoorn, Assistant Marketing Manager, Jean.posthoorn@mq.edu.au or 9850 9494
Filed under: Campus news Sport Uncategorized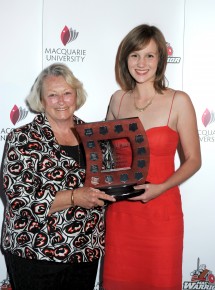 View by category