Macquarie University receives 5 QS Stars
23 October 2013
Macquarie University has achieved a rating of 5 QS Stars, including the maximum rating in all of the eight major sub-categories.
Professor David Wilkinson, Deputy Vice-Chancellor (Corporate Engagement and Advancement) called the rating "an outstanding outcome".
"This rating is only attained by truly world‐class institutions," he said. "It is particularly pleasing that Macquarie attained a 5 star rating in each of the eight major sub-categories. Of the 18 Australian universities currently rated by the QS Stars system, only the ANU, UNSW, Queensland and Monash have received 5 stars in all categories."
The QS Stars rating system is utilised by more than 130 universities in 30 countries. It gives an overall institutional rating, as well as ratings in eight sub-categories – teaching, employability, research, internationalisation, facilities, innovation, access, and specialist subjects.
Filed under: Campus news Uncategorized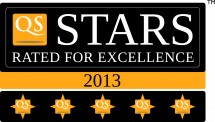 View by category