Rainbowfish embryos can differentiate between predators
17 October 2013
A new study of rainbowfish embryos reveals they are not only able to recognise potential predatory threats, but can also differentiate between them as early as four days post fertilisation, while still inside the developing egg.
Researchers from the Department of Biological Sciences at Macquarie University have outlined their discovery in a new paper in PLOS ONE, where they have taken rainbowfish eggs from a clinic aquarium, and observed them under a microscope to record the embryo's heartbeat.
"Rainbowfish are ideal for studying the early development phase, as the eggs are completely transparent and you can see the embryo growing inside," said lead researcher Associate Professor Culum Brown.
"When the embryos detect danger their heart rate increases, just as it does if you or I are frightened. Based on the change in heart rate the researchers can gauge how stressful the embryos find various experiences."
Scented water samples were squirted into petri dishes containing an embryo. By introducing water from various sources and monitoring the embryos' responses, the researchers could determine what predatory threats produce a response. They found that while the developing embryos were most affected by native predators such as the spangled perch, they also responded to introduced predators such as goldfish.
Lead author, Lois Oulton, says one of the most important skills for newborn rainbowfish' survival is the ability to recognise predators, with this study demonstrating how this skill develops even prior to birth.
"We have known for a long time that some baby animals have a general innate ability to respond to threats, but this ability is fine-tuned as they grow and come into contact with various predators," says Lois.
"The results of this study are really exciting, as they show us that these embryos are capable of some pretty complicated processing even at this young age. Their nervous system is obviously well formed."
Brown says, "The technique is also very useful for studying stress in these embryos more generally. We are currently developing the technique for studying the effects of pollutants on the aquatic environment with a view to informing policy makers."
The research will be published in full by science journal PLOS ONE.
Oulton L, Haviland V & Brown C (2013) Predator recognition in rainbowfish, Melanotaenia duboulayi, embryos. PLOS ONE http://www.plosone.org/article/info%3Adoi%2F10.1371%2Fjournal.pone.0076061
Filed under: Featured Science & nature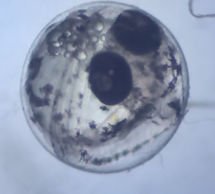 View by category