Alumna and NSW Deputy Commissioner of Police Catherine Burn receives honorary doctorate
18 September 2013
As an alumna who has served the people of New South Wales faithfully and with distinction for almost three decades, NSW Deputy Commissioner of Police Catherine Burn has today been recognised with a Doctor of Letters honoris causa from Macquarie University.
"Deputy Commissioner Burn is not only the highest-ranking police woman in New South Wales, but also the most senior woman in any police force in Australia," said Vice Chancellor Professor Bruce Dowton, in today's graduation ceremony for the Faculty of Arts.
"She is currently responsible for specialist operations in the NSW Police Department, which includes forensics and prosecutors, but also police in our skies, on our waterways, and on our public transport and highways."
Throughout her 29-year career with New South Wales Police, Burn has managed a range of portfolios, including corporate services with an annual budget of $2.7 billion and a workforce of 20,000 officers and staff.
She has also worked in general policing duties, as a detective, in emergency operations and as a Local Area Commander of communities such as Burwood, City Central and Redfern.
Burn has won numerous awards during her career including the 2011 Telstra Australian Business Woman of the Year award, the Australian Police Medal and the International Women's Day NSW Woman of the Year.  However, her greatest legacy is in her commitment to working with vulnerable communities to make real change.
This social commitment extends from her police work to participation in a mentoring program through the Faculty of Business and Economics at Macquarie University.
Filed under: Alumni Campus news Social sciences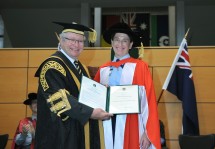 View by category