Exploring the future(s) of universities: Learning and Teaching Week 2013
13 September 2013
Macquarie's annual celebration of learning and teaching will tap into the future of universities, with special events on campus from Monday 16 – Friday 20 September.
Under the theme of Our University, Our Future the week includes events not only for academic staff but their professional colleagues, students, teachers and anyone with an interest in current developments in higher education. The week's highlights include:
Keynote and panel events
The second Australasian Conference of Undergraduate Research (ACUR)
A one-day conference including poster presentations and spoken papers from undergraduate students, Master of Research students and graduated 2012 Honours students from across Australasia.
Spoken presentations include topics such as:
Big History: Opening the Gateway to Interdisciplinary Learning
Saba Vayani-Lai, Macquarie University
International medical students, where to now?
Claudia von Peltz, University of Western Australia
Searching for risk factors in low back pain: insights from a new twin case-control study Alex Griffin, University of Sydney
The best full papers submitted by undergraduates will be published in a Special Issue of MQ Matrix (Macquarie University's peer reviewed undergraduate research journal). These will also be eligible to win the prize for the best presentation at the conference.
Three-minute thesis competition (3MT)
To determine Macquarie's representative for the national 3MT competition, finalists from each faculty will have 3 minutes to give a dynamic talk on their thesis topic and its significance, using accessible language and only one PowerPoint slide.
Filed under: Campus news Events Learning & teaching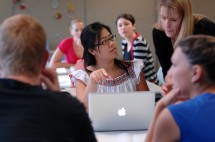 Media contact
0417 590 601
View by category