The future of writing: public symposium
6 September 2013
Writers, self-publishers and journalists are invited to join leading experts and media academics in a conversation about the challenges and opportunities of writing in the digital age.
As a free event on Tuesday 24 September, the symposium offers a unique opportunity for the writing community to come together for presentations and panel discussions, to ask questions or add comments to the conversation.
"We launched this symposium in 2012 and it was fantastic to see so many different types of writers in a room together," says convenor Professor John Potts.
"This year we'll be focusing on various writing practices including digital and hybrid writing, memoir and autobiographical writing, and the use of social media in journalism."
Speakers include Alice Pung, Geordie Williamson, Chris Rodley, Christy Dena and Kathryn Millard.
An afternoon panel will explore how social media is changing the shape and scope of public debate and journalism, drawing a wide range of expertise, views and experience. Particular focus will come from course convenors of Macquarie's new Master of Future Journalism, due to start in January 2014.
The panel will feature Misha Ketchell, Managing Editor of The Conversation; Peter Leonard, a Partner at leading communications and media law firm Gilbert and Tobin; Margo Kingston, co-publisher of No Fibs and Catharine Lumby, Professor of Media at Macquarie University.
Support for the symposium comes from the Copyright Agency Cultural Fund and Department of Media, Music, Communication and Cultural Studies, Macquarie University.
For a full schedule and symposium details, see mq.edu.au/writing-2013
Admission is free and open to the public.
Date: Tuesday 24 September
Location: T1 Lecture Theatre, Building Y3A, Macquarie University
Contact: john.potts@mq.edu.au, 9850 2250
——-
Develop expertise in fundamental and new journalism practice – ethics, news, reporting, writing; working with multiple media forms including audio, video and web-based; and journalism innovation including aggregation, curation, social media and data journalism
Access state-of-the-art media and production facilities, including a digital newsroom designed specifically for this degree
Make the most of opportunities to go on exchange to New York, Shanghai, Hong Kong and UK
Develop an understanding of the media management fundamental to help you expand career options.
Filed under: Events Faculty of Arts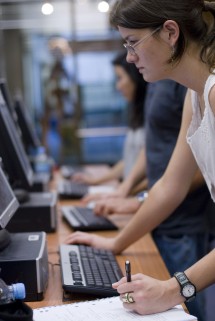 Interview contact
John Potts
9850 2250
View by category