Noise destroys: Australian Hearing Hub mini expo highlights impact of noise on hearing
21 August 2013
If you are concerned about hearing damage to yourself or others through noisy workplaces, or from personal music players, get along to the Australian Hearing Hub on Tuesday 27 August from 11am-2pm to find out more.
Officially launched in April this year, the Australian Hearing Hub at Macquarie University is a ground-breaking new facility bringing hearing industries and related organisations under one roof, providing new opportunities for collaboration to improve the quality of life for those affected by hearing loss.
As part of Hearing Awareness Week, the Hub will be hosting a mini expo to raise community awareness of the impact of recreational and industrial noise on hearing.
Between 11am-2pm on Tuesday 27 August, members of the University and wider community will be able to:
get a FREE 3 minute hearing check* and/or voice screen
find out if your portable music player is damaging your hearing by bringing along your (or your kids!) iPhone, iPod or MP3 player and measuring the loudness and potential hearing damage
learn about the latest technology to protect your hearing
experience a simulation of hearing loss – hear what the world sounds like for those with hearing damage
meet recipients of a Cochlear implant to learn about their experience first-hand
learn more about the research, education and services offered by the Australian Hearing Hub.
*Screening otoacoustic emissions
For more information about the expo, see: http://hearinghub.edu.au/you-are-invited-to-a-mini-expo-at-the-australian-hearing-hub/
About the Australian Hearing Hub
The Federal Government estimates that ten million Australians will suffer some level of hearing loss by 2050. With approximately one quarter of the population likely to be affected, the impact on Australian society, its economy, and its support services will be immense.
The Australian Hearing Hub is a revolutionary independent research facility inspired by the interdisciplinary working environment of the University. Featuring the National Acoustic Laboratories' anechoic chamber, specially designed 'echo chambers', and three MEGs – including one specifically for children – it offers state-of-the-art facilities to more than 2000 professionals from some of the country's best hearing and allied health organisations, together with staff, students and researchers from one of the country's leading research universities.
The Australian Hearing Hub is an initiative of the Australian Government being conducted as part of the Education Investment Fund.
Partners at the Australian Hearing Hub include Macquarie University, Australian Hearing, the National Acoustic Laboratories, Cochlear Ltd, the Royal Institute for Deaf and Blind Children, The Shepherd Centre, the Sydney Cochlear Implant Centre, the Hearing CRC and the ARC Centre of Excellence in Cognition and its Disorders.
Filed under: Campus news Health & medicine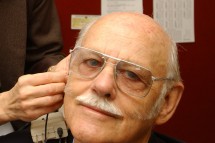 View by category