Prime Minister visits campus to announce new Medical Technologies Innovation Partnership
16 August 2013
On Monday, Prime Minister Kevin Rudd announced the first new Australian Innovation Partnership – the Medical Technologies Innovation Partnership – which will be headquartered in Macquarie Park.
Mr Rudd, Senator Kim Carr and local candidate Jason Yat-sen Li made the announcement during a visit to the Australian Hearing Hub on Macquarie University's campus.
The group toured the Australian Hearing Hub's key facilities, including the anechoic chamber, Magnetoencephalography (MEG) labs and liquid helium recovery system.
The Medical Technologies Innovation Partnership was established following an expression of interest by a large consortium of industry, academic institutions and government, including core partners Cochlear Limited, Macquarie University, the Bionics Institute, Flinders University, STC, ATP Innovations and the Westmead Research Hub.
The new Australian Innovation Partnerships will build national networks of partners from different sectors, with the aim of helping businesses and researchers to collaborate, share knowledge and deploy technology, enabling translation of research into commercial outcomes.
These industry-led partnerships will tap into our world-class science and research capabilities to increase the competitiveness of Australian industries and create more jobs.
About the Australian Hearing Hub
The Federal Government estimates that ten million Australians will suffer some level of hearing loss by 2050. With approximately one quarter of the population likely to be affected, the impact on Australian society, its economy, and its support services will be immense.
The Australian Hearing Hub is a revolutionary research facility enabling interdisciplinary and cross-sectoral research and treatment of hearing loss. Featuring the National Acoustic Laboratories' anechoic chamber, specially designed 'echo chambers', and three MEGs – including one specifically for children – it offers state-of-the-art facilities to more than 2000 professionals from some of the country's best hearing and allied health organisations, together with staff, students and researchers from Macquarie University, a national leader in hearing research.
The Australian Hearing Hub is an initiative of the Australian Government, being conducted as part of the Education Investment Fund.
Partners at the Australian Hearing Hub include Macquarie University, Australian Hearing, the National Acoustic Laboratories, Cochlear Ltd, the Royal Institute for Deaf and Blind Children, The Shepherd Centre, the Sydney Cochlear Implant Centre, the Hearing CRC, and the ARC Centre of Excellence in Cognition and its Disorders. http://hearinghub.edu.au/
Filed under: Campus news Health & medicine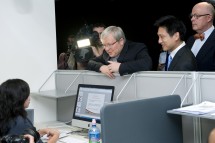 View by category