Foreign affairs ministers awarded honorary doctorates
16 July 2013
Macquarie University has today awarded a doctor of letters honoris causa to both the Foreign Affairs Ministers of Australia and Indonesia; Senator the Honorable Bob Carr and His Excellency Dr Marty Natalegawa.
Each minister was recognised for their broad experience across international politics, including Carr's achievements as Premier of New South Wales and subsequent transition into Federal politics, and Natalegawa's representation of Indonesia in ASEAN, the UK and as President of the United Nations Security Council.
The two recipients each gave an occasional address to an assembly of invited guests.
"Although this honorary doctorate has been conferred on me as an individual, I feel that I hold it in trust for the people of Indonesia," said Natalegawa, "recognising Indonesia's earnest efforts in the promotion of international peace and prosperity.
"It is symbolic of the special relations and friendship that binds Indonesia and Australia together. A friendship forever defined by Australians' early support for Indonesia's struggle for independence; and one further solidified as the two nations stood hand in hand in support of one another in overcoming natural disasters, acts of terror and other common challenges."
Both Carr and Natalegawa discussed current political issues under discussion between the two nations, including the situation on the Korean Peninsula, and territorial disputes such as those in the East China Sea and South China Sea.
"Today our view of Indonesia is based on an admiration for its take off, economic growth, and for its achievements over the decades in maintaining unity," said Carr. "Unity out of that spectacular diversity – that geographic spread and that ethnic diversity. And admiration above all for Indonesia choosing that democratic path, and being therefore, a country with a great deal to tell the nations of the Arab spring, or to tell Myanmar."
"Throughout the world, in presidential palaces or chancelleries, when people refer to Marty, there is only one person they are referring to. A Secretary of State in Washington may say  "it depends on what Marty thinks". Or someone in an ASEAN capital may say, "No, we're expecting Marty here, and he'll be able to clarify". I join you in congratulating him, and commending him for the service that stands behind this honour," Carr said.
Filed under: Campus news Politics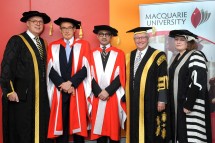 View by category