A new exhibition in Stalled
20 June 2013
The latest exhibition opening today at Macquarie University Art Gallery – Stalled is a collection of art works created by the installers who have worked at the Gallery over the past few years.
Curated by Rocket Mattler and Tim Moore, it brings together half-a-dozen artists including, Raytheon Buna, Kyle Ford, Will French, Mark Gowing, Rocket Mattler, Tim Moore and Danny Morse.
The exhibition consists of variety of mediums. The art works play off each other in a manner that sets an energetically engaging tone and pace. One can sense the friendship and diversity of this group of artists.
The art works engage the viewer on many levels – some works will intrigue, some will shock, others will perplex.
There is a tension between the works set within the gallery that will emote a questioning of self, provoke one's sense of humour and may surprise.
"I guess there is a lad element but there are also pieces that have a real emotional tone too," says artist Tim Moore who is known for his comical and sometimes absurd pieces.
"This exhibition is a lot of fun. It brings together some really interesting artists and lets them do what they like. The result is a good laugh," says Moore.
The exhibition will run from 19 June – 24 July 2013 at Macquarie University Art Gallery, Building E11A.
For more information phone: 02 9850 7437
Filed under: Campus news Events Faculty of Arts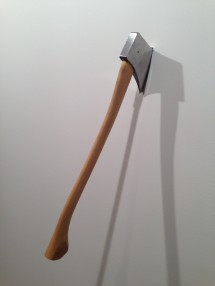 View by category