Macquarie University Australia's top modern university
11 June 2013
Macquarie University is again Australia's highest-ranking university in the QS Top 50 Under 50, an international comparison of the best universities in the world under the age of 50.
Ranked 18th in the world, this is the second year in a row that Macquarie has been named Australia's best modern university. The ranking is based on measures for research, teaching, innovation, graduate employability and international outlook.
In its relatively short history Macquarie has seen substantial growth due in part to significant investment in areas of research excellence, facilities and infrastructure.
Macquarie is home to the most technologically advanced hospital in the country; the Australian School of Advanced Medicine; a state-of-the-art library; and the Australian Hearing Hub which opened this year, bringing the nation's leading hearing research and treatment agencies together on the campus.
In ERA 2012, 85% of Macquarie's research fields were rated at or above world standard. The Academic Ranking of World Universities places Macquarie in or close to the top 100 in the world in natural sciences, engineering, earth sciences and life sciences
Australia's best young university
Filed under: Campus news Research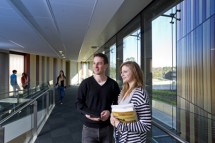 View by category