See and touch history's oldest secrets through new research
24 May 2013
An upcoming colloquium lecture will offer a unique opportunity to see and touch the astonishing results of new research, where some of history's oldest written secrets have been revealed through the newest techniques in modern medicine.
A most unusual partnership has allowed Dr Jaye McKenzie-Clark (Department of Ancient History) and Professor John Magnussen (Australian School of Advanced Medicine) to combine expertise in ancient artefacts with modern medical imaging. Their work in ceramic composition and Cuneiform analysis is transforming the field of non-destructive analysis of ancient pottery.
"Envelopes are nothing new, nor is the desire to write private messages," says McKenzie Clark. "Yet some secrets, hidden in envelopes of clay, have remained unopened for up to 5,000 years. These sealed Cuneiform tablets, dating from the Third Millennium BC, preserve fragments of the oldest known form of writing, and the clandestine messages of those times."
In the past the only way to see what lay hidden inside was to destroy the outer shell. McKenzie-Clark and Magnussen have now reproduced ancient artefacts using 3D printing and used state-of-the-art CT scanners to analyse their composition without even removing them from their box. This has the potential to revolutionize the study of trade, distribution and consumption of goods in the ancient world.
"Few sites in the country would offer the counterpoint of a valuable resource such as aMuseum of Ancient Cultures with the newest in medical imaging technology," says Magnussen. "The intellectual expertise in the respective departments also made this possible, who through their open-mindedness and intellectual curiosity have given birth to a technique that could revolutionise the approach to archaeological science – and leave behind a growing rather than shrinking resource for future study."
Their colloquium lecture will explore these developments in ancient artefacts and 3D printing, and highlight their plans for the future. Their two upcoming research projects will  aim to combine 3D printing and scanning techniques to provide an innovative library of 3D objects that can 'bring the museum out of the box and into the hands of students', in all parts of the community, from high school to postgraduates alike.
"The dominance of visual learning seems to be at the expense of multisensory education," says McKenzie-Clark. "However, it has long been realised that object based learning is a powerful pedagogical tool, so we are looking for new ways to see the museum put into the hands of participants, rather than being kept hidden in display cabinets or storage."
When: Wednesday 29 May
Where: Campus Hub Building (C10A), Level 3, Macquarie University.
Time: 6pm – 8pm.
Parking: Casual parking is available in car parks X3 and X4. Parking rates apply.
More information about the event is available here.
Professor John Magnussen
Professor Magnussen qualified in Medicine and then went on to complete a PhD in Nuclear Medicine and Biomedical Engineering at UNSW. Magnussen qualified in Radiology from RPAH in 2002, where he worked both in diagnostic and interventional radiology, and was the Director of Research. He is a Partner in Specialist Magnetic Resonance Imaging and has completed advanced training in CT Coronary Angiography. Magnussen has presented at numerous international meetings in basic science and clinical research and is the Professor of Radiology at Macquarie University.
Dr Jaye McKenzie-Clark 
Dr McKenzie-Clark is an award-winning consulting archaeologist and ceramic specialist. She has worked on several projects in Greece and Italy and has authored many journal articles, book chapters and most recently her own book. McKenzie-Clark lectures and tutors in both Archaeology and Society and Museum Studies and is an Education Officer at the Museum of Ancient Cultures. McKenzie-Clark is also a Director of Macquarie University's Australian Carsulae Archaeological Project, which is investigating the ancient Roman city of Carsulae in Umbria. With training in architectural design and construction McKenzie-Clark is conversant with the identification, documentation and analysis of archaeological standing remains. Her long-standing experience as a commercial potter has led to a comprehensive understanding of the manufacture and analysis of archaeological ceramics. She is recognised as an international authority on ancient Roman pottery.
Filed under: Alumni Campus news Faculty of Arts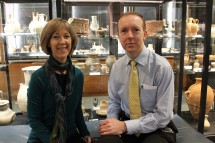 View by category