It's a record: campus hosts the world's longest continuous touch footy game
14 May 2013
Macquarie University successfully achieved a new world record last week by hosting the longest consecutive Touch Rugby football game on campus, with over 450 participants taking part in a 30-hour match.
A mix of students, Sport Clubs, staff and sport enthusiasts kept the game going with high energy and spirit throughout the match. Players came dressed in their pyjamas, onesies, lycra and even an unidentified player in a chicken suit graced the field within the early hours of the morning.
"The score was tight throughout the lengthy event," said Cindy Hoad, General Manager Sport and Recreation, "but the final score saw the MacWarriors take out the win, with 291 against the Mini MacWarriors at 246. It was a great effort by all who took part in both teams."
As a local sporting institution, Macquarie was determined to tick all the boxes for an official world record, with the match played down by the iconic campus lake, and under Touch Football Australia Rules with an official referee.
"The amount of support received was overwhelming" says Cindy Hoad, General Manager Sport and Recreation. "Macquarie University Sport would like to thank everyone who participated in the event or helped out on the day. The effort and enthusiasm of students, staff and the community was vital to the events success".
With the option to play in the overnight games, and camp out on the campus, it was a fun and unique way for participants to spend time with their sporting teams, group of friends or work colleagues while contributing to the big goal.
Players and spectators even got to take part in Friday morning's other big event, the solar eclipse, by joining Macquarie's astronomy team down at Macquarie's atrium, located next to the lakeside game.
The event also helped raise money for local Sports Clubs, with a number of BBQ fundraisers held throughout the 30 hours.
Filed under: Sport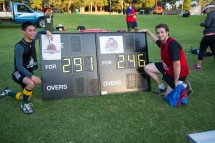 View by category