International expert leads Macquarie cancer team into new leg lymphoedema surgery
9 May 2013
Leading international lymphoedema expert Dr Alex Munnoch returned to Macquarie University this April, to continue a global knowledge transfer in surgical skills for treating the little-known condition.
Lymphoedema is a life-long complication of some cancer treatments for breast, prostate, melanoma and gynaecological cancers including ovarian cancer. It can also occur in a form known as primary lymphoedema. There is no cure for the condition, with 12,500 Australian cancer patients likely to develop symptoms each year.
Munnoch first visited the Australian School of Advanced Medicine and Macquarie University Hospital in April 2012, to launch the Macquarie University Cancer Institute's lymphoedema program and lead its first arm lymphoedema liposuction procedure.
In the following 12 months, the MCI has successfully treated 10 patients with the procedure, opened Australia's first multidisciplinary Advanced Lymphoedema Clinic at Macquarie University Hospital and grown its program into a new research stream for the Australian School of Advanced Medicine. Its first leg lymphoedema surgery has also now been undertaken, under the leadership and experience of Munnoch.
"It's been an exciting first year since our first patient, Megan Southwell, bravely signed up to the arm liposuction procedure," says Director of the Macquarie University Cancer Institute, Professor John Boyages.
"As Megan and others in our first group of patients came through our surgical program, we have been researching the composition of their lymphatic fluid, to give us new insight into what's physically happening within the lymphoedema, and how it can be treated better, earlier, or even avoided altogether."
Munnoch is keen to use this 2013 visit to both teach and learn from the local practitioners once again.
"I've been involved in the liposuction treatments for lymphoedema for some time," said Munnoch, "providing research and surgical articles so that other sites, such as those at Macquarie University Hospital can train up in these skills. Now, though, they also have something to share with me, in the lymph node transfer procedure."
Munnoch is also being trained in a new lymph node transfer surgery that Boyages' team has been trialling over the last 12 months.
A suite of lymphoedema treatments are now available through the Macquarie University Cancer Institute (MCI), from early detection and intervention methods to new surgical options, including liposuction of arm and leg lymphoedema.
For further information about these options in lymphoedema treatment, please contact the MCI Cancer Hotline (during business hours) on +61 2 9887 8887.
You can also find local lymphoedema therapists using the National Lymphoedema Practitioners Register or learn more about the Cancer Care options at Macquarie University Hospital.
Filed under: Health & medicine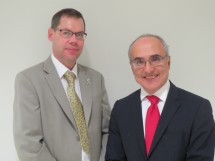 Media contact
0417 590 601
View by category