Research exposes toxic playgrounds at Port Pirie
2 May 2013
In a study published in Environmental Pollution this week, Macquarie University researchers have shown that Port Pirie's playgrounds are dangerously contaminated by smelter emissions of lead, arsenic and cadmium. With recent data from SA Health showing that lead poisoning levels for toddlers in the area are rising, these playgrounds were identified as key exposure areas – with elevated dust metal levels easily transferred to hands during play activity.
"One child in every three days presents with lead poisoning in Port Pirie – the worst rate by far in Australia," says lead author Professor Mark Taylor.
"The current licence and associated abatement measures are not working, because 25% of the children have blood lead levels greater than the already too high NHMRC guideline of 10 µg/dL. The study shows that over a year multiple emission events of neurotoxic metals blanket the whole town – including outdoor environments like children's recreational or kindergarten facilities," he says.
The risks associated with metal rich airborne dusts deposited on playground facilities have previously received little attention compared to lead exposures in home environments.
To collect new data from these outdoor environments, the researchers undertook repeated child-simulated play activity at four playgrounds across Port Pirie city for a timed period of 20 minutes. Hand wipe samples were collected each day before and after their timed play period. Playgrounds were selected to be as close as possible to the EPASA lead-in-air monitoring stations, to aid correlation to atmospheric lead concentrations and those in surface and hand wipes.
"Our results showed that seventy-one percent of all of the surface dust wipe samples collected in Port Pirie exceeded the Western Australian Health clean-up goal of 400 µg/m2 (lead) for surfaces accessible to children. This is unacceptable," Taylor says.
The initial findings from this study were provided to the Environmental Health Centre at Port Pirie in January 2012. As a result there has been an increase in the playground cleaning regimes under partnership between Nyrstar and the Port Pirie local government, but the authors have recommended to the Environmental Health Centre at Port Pirie that a follow up study is essential because significant reductions/elimination of lead-in-air emissions have not yet been initiated and it is these emissions that are contaminating playgrounds.
"The solution to the lead exposure problem at Port Pirie is clear," says Taylor. "The data show that current Nyrstar Port Pirie Pty Ltd smelter licence arrangements do not adequately protect children and the environment, so smelter emissions must be eliminated or significantly reduced immediately and soils evaluated and remediated where necessary."
Environmental lead exposure risks associated with children's outdoor playgrounds, Environmental Pollution, by Mark Patrick Taylor, Danielle Camenzuli, Louise Jane Kristensen, Miriam Forbes (Macquarie University), Sammy Zahran (Colorado School of Public Health and Center for Disaster and Risk).
Filed under: Research Science & nature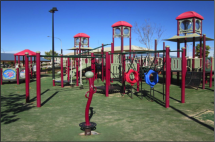 View by category