New South Wales Police Commissioner Andrew Scipione receives honorary doctorate
22 April 2013
New South Wales Police Commissioner Andrew Scipione was awarded with an honorary doctorate from Macquarie University.
Presented with a Doctor of Letters honoris causa, the award recognised the Commissioner as a respected leader within the community.
As Macquarie University graduate – Commissioner Scipione holds a Masters Degree in Management and a Graduate Diploma in Police Management – the award held special significance for the University.
In his citation, Vice-Chancellor Professor Bruce Dowton paid tribute to the Commissioner's significant contribution as "a true Australian hero [who] has gained the public's respect and trust for his dedication to upholding the law".
During over 30 years of service with the NSW Police force, Andrew Scipione has been dedicated to the safety and wellbeing of the Australian people. In his current role as Commissioner of Police, he heads Australia's largest police force, and the fourth-largest police force in the Western world.
For his commendable service throughout his career Commissioner Scipione has been highly decorated, including receiving the Australian Police Medal and the National Medal.
Among his academic achievements he is a Fellow of the Australian Institute of Management, a Member of the Australian Institute of Company Directors and a Graduate of the FBI National Executive Institute.
While delivering the occasional address to his new fellow alumni from the Macquarie Graduate School of Management, the Commissioner thanked his former University for the honour.
Filed under: Alumni Business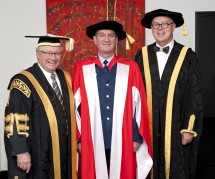 View by category