Dyslexia advocate's determination pays off in graduation
19 April 2013
Jim Bond, a Killarney Vale resident and well-known dyslexia advocate, graduated from Macquarie University yesterday with a Bachelor of Arts in Political Science. It is a tremendous achievement for a student who left high school at 14, yet kept his goal to return to the place where his story with dyslexia began.
"When I was seven years old, Professor Delbridge from Macquarie University's Linguistics department first recognised that I had dyslexia. From that point on, my dream was to do a degree here at the University," Bond says. "It was such a heartening experience to walk through the gates of Macquarie at the age of 50, as one of the first Australian university students with severe dyslexia."
Bond's accomplishments have national significance for the dyslexic community, as recognised this week in a letter from The Honourable Julia Gillard MP, Prime Minister of Australia. She wrote: "If anyone doubted that you would succeed, they only had to look at your record as an activist for change and see the tenacity you've shown. Congratulations, good luck, and thank you for your amazing advocacy and example. Other Australians with dyslexia will get to the graduation dais earlier and easier because of what you've accomplished."
Bond has been a passionate advocate for people with dyslexia for over 25 years. In 1988, he recognised the potential of text-to-speech computer programs and started campaigning for the widespread introduction of this technology into libraries, schools and universities.
His advocacy saw great success not only in the roll out of the technology, but changes to the employment practices of the New South Wales and Victorian Governments, changes to the Anti-Discrimination Act (the inclusion of Dyslexia as a disability), changes to the Education Act to recognise Dyslexia and to fund a teacher training program for classroom teachers, and changes to the Human Rights Act to include dyslexia as a disability.
As his advocacy role developed, the text-to-speech technology also allowed Bond to resume his education, and he entered Macquarie University in 2009. Now with a university-supplied computer and WYNN software, he can have any information read to him including textbooks, course materials and the web.
Additionally, the University Disability Service has recently provided Bond with a specialised camera called PEARL, which takes photos of any page and within seconds, can read it back to him, so that he can now access regular printed books.
After the graduation ceremony on campus today, Bond met with Deidre Anderson, Deputy Vice-Chancellor (Students and Registrar) and shared experiences from his time at the university so far.
"Jim really epitomises the commitment and resilience of many people who have challenges whilst pursuing education. It's been evident in the support offered to Jim that  the uni's support services can really make a difference in the lives of people, and the University is incredibly proud of Jim, as are his family and friends. We look forward to seeing his ongoing work in the broader community," said Anderson.
After nine Distinctions and three High Distinctions in his first degree, Bond is taking his studies to the next level in 2013 through Macquarie's Masters of Politics and Public Policy. He is planning to tackle a PhD next and would ultimately like to enter politics, with nothing less than the aim of changing the world.
Filed under: Alumni Campus news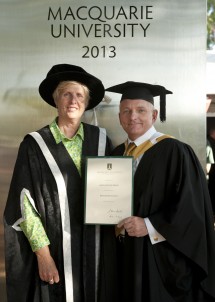 View by category