Celebrated Australian writer Kate Grenville receives an honorary doctorate
19 April 2013
One of Australia's finest writers Kate Grenville received a Doctor of Letters honoris causa from Macquarie University for her significant contribution to the Australian literary landscape.
Kate Grenville has produced many Australian literary classics and is admired by critics and readers alike. The authors of fiction and non-fiction, her works have been internationally published and received critical acclaim around the world.
Presenting the citation, Vice-Chancellor, Professor Bruce Dowton described Grenville as one of Australia's "best-known and finest authors".
During her long career Grenville has won numerous prizes, including the Commonwealth Prize for Literature and the Christina Stead Prize. Her work has also been shortlisted for the Man Booker Prize, the Miles Franklin Award and for the New South Wales, Queensland and Western Australian Premiers' Awards.
Her most recent novel, Sarah Thornhill, was published in August 2011. A sequel to The Secret River, it forms a loose trilogy along with The Lieutenant, exploring the first three generations of colonial Australia. 
Awarded fellowships from the International Association of University Women and The Literary Arts Board of the Australia Council, Grenville and her work have been widely recognised throughout the academic literary community. Her works on the writing process are used in many writing courses in schools and universities.
In her occasional address, Kate Grenville congratulated the attending graduates and expressed thanks at being honoured by the University.
Filed under: Alumni Faculty of Arts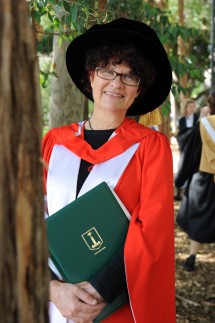 View by category