Researchers team up with the Paige Weatherspoon Foundation to develop a faster diagnosis of bacterial meningitis
18 April 2013
Using joint funding from Paige Weatherspoon Foundation and the Macquarie University Office of Commercialisation, a team of researchers have recently made headway in developing a faster diagnosis for bacterial meningitis.
Macquarie University researchers Associate Professor Andrew Try, Dr. Russell Connally and Dr Nima Sayyadi, assisted by world-renowned DNA chemist Assistant Professor Arkady A. Mustaev, New Jersey Medical School, have recently developed diagnostic dyes that glow with long persistence after a brief exposure to ultra-violet (UV) light that could be used to identify bacteria including meningococcus.
In 2010 the Paige Weatherspoon Foundation sought out Dr Connally, to see if his recently invented GALD device could assist in the early detection of bacterial meningitis. GALD stands for Gated Auto-synchronous Luminescence Detector, an optical device that can be attached to a microscope to make the identification of dangerous bacteria (after appropriate labeling with the new dyes) much faster, cheaper and easier.
In December 2010, the Paige Weatherspoon Foundation contributed $55,000 (supplemented by $50,000 from Macquarie University) to fund the development of a synthetic chemical dye – called BHTEGS, which makes bacteria visible through the GALD device.
The research team say that as a result of funding they have been able to make significant gains in identifying specific bacteria.
"Following initial success to make bacteria visible through the GALD our recent research has enabled BHTEGS to glow five-times brighter than current dyes when viewed through the GALD," says Dr Connally.
The team is optimistic about what their recent achievements mean for faster diagnosis, though they say there is still a long way to go before these techniques can be applied and used in commercial testing of meningitis.
"We are getting closer but still have some way to go. We are now seeking additional funding to further develop BHTEGS for microscope-free identification of the organisms responsible for bacterial meningitis," says Dr Connally.
Filed under: Health & medicine Research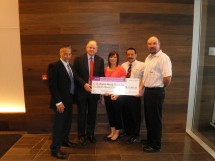 View by category