Fulbright scholars announced
26 March 2013
The Fulbright and Anne Wexler Scholars were announced during the annual presentation dinner at Parliament House in Canberra last week, with Macquarie University well represented at the prestigious event.
Incoming Deputy Vice-Chancellor (Corporate Engagement & Advancement) David Wilkinson has been awarded a Fulbright Senior Scholarship. He will travel to the University of California San Francisco to look at improving the outcomes of medical education through global benchmarking.
"In Australia there is no national assessment of graduating medical students' knowledge, skills and attitudes. Each medical school delivers its own exams, largely in isolation. In contrast a national licensing exam exists in the USA," he said.
"My project will build deep institutional partnerships between key Australian medical schools, leading US medical schools, and the US National Board of Medical Examiners (NBME). Collaborative assessments will be used to build a mechanism for global benchmarking for medical education, and thus improve outcomes quality in Australia."
Alongside David, two Macquarie alumni were awarded scholarships for continued study in the United States. Rod Kennett gained his BSc in biological sciences here, and Rod will visit the Nature Conservancy for six months to further his research into developing new tools and strategies to support Indigenous livelihoods in conservation.
Robert Mason, a PhD candidate in marine biology at the University of Queensland, also began his academic career with us, gaining a BSc with Honours in biology here. He won the Fulbright Queensland Scholarship and will go to the University of Hawaiʻi at Mānoa for a year to further his research in coral bleaching.
Filed under: Alumni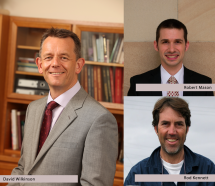 View by category