Professor Paul Ehrlich speaks on climate adaptation's role in the collapse of civilisation
22 March 2013
Macquarie University's Climate Futures research centre and Department of Biological Sciences recently hosted a booked-out public presentation from Professor Paul Ehrlich, Fellow of the Royal Society, Bing Professor of Population Studies, and President, Center for Conservation Biology at Stanford University.
The seminar opened with a short presentation based on Ehrlich's recent paper 'Can a collapse of global civilization be avoided?'. Ehrlich highlighted the role of climate adaptation research in this area – identifying population growth as a major, but often unrecognised, driver of increasing greenhouse gases in the atmosphere.
"Australia is way ahead of the United States in this", Ehlrich said, "in the United States the fact that we're the most overpopulated nation in the world is never mentioned. At least in Australia, there is some discussion."
The audience then took up this discussion, in an interactive Q&A session with Professor Ehrlich and his wife Anne.
Questions touched on areas such as:
–       the impact of China's one-child policy
–       how a population control policy might interact with immigration policies
–       the role of corporations in avoiding collapse
–       how scientists can communicate through politicians to the general public
The full presentation and Q&A session can be viewed here:
Dr. Paul R. Ehrlich is the Bing Professor of Population Studies, and President, Center for Conservation Biology at Stanford University and has recently been made a Fellow of the Royal Society. His research interests are in the ecology and evolution of natural populations of butterflies, reef fishes, birds and human beings.
Anne Ehrlich is a Senior Research Scientist in Biology at Stanford and focuses her research on policy issues related to the environment.
Climate Futures at Macquarie bridges the divide between climate and adaptation research, policy and practice needs, by serving as a hub for interactions between leading climate researchers, governmental decision-makers, non-governmental organisations, businesses and other stakeholders, including vulnerable communities.
The Department of Biological Sciences is committed to innovative and integrative teaching and research. The department spans the full range of biological disciplines from genes to ecosystems. They are a leading department in a major research university and believe that excellence in teaching comes from excellence in research.
Filed under: Campus news Science & nature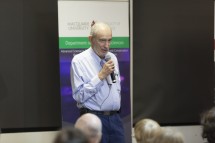 View by category