Over 120 new sporting scholars inducted
21 March 2013
At a ceremony last night, 125 elite athletes were inducted into the Macquarie University Sport Scholarship Program. Organisers say the significant increase in the number of Sport Scholars awarded this year was a response to the growing number of professional athletes that have applied to study at Macquarie.
"The number and quality of athletes receiving Sport Scholarships is a reflection of the growing reputation and prominence of the Macquarie University Sport Scholarship Program," says Glenn Warry from Macquarie University Sport.
The Sport Scholarships have been awarded to both National and State level athletes, with the largest growth area being scholarships going to Development Squad athletes. Through the provision of Sport Scholarships, the University supports elite student athletes to achieve both their sporting and academic goals.
"We have also seen an increased number of professional athletes that have applied to study, in particular three players from the Greater Western Sydney AFL Club as well as four Olympians and Paralympians," says Warry.
Two Olympians to receive Sport Scholarships were Melissa Wu and Elisa Barnard. Melissa Wu represented Australia in Diving at both the 2008 Beijing and 2012 London Olympics and Archer Elisa Barnard made her Olympic debut in London 2012. Wu, who is currently completing a Bachelor of Media, and Barnard, who is doing a Bachelors of Arts in Psychology and a Bachelors of Laws, are currently being featured in the University's Sporting Hall of Fame in an exhibition called "Macquarie at the Olympics".
Co-hosting the event were two returning Sport Scholars Alexandra Parsons and Nicholas Dawe. Both elite athletes themselves Alexandra has represented in the Sport of Taekwondo and Nicholas gained selection for the Australian University Team to tour Russia in the World University Games for Sprint Canoe.
"The ceremony highlighted the success of these Sporting Scholars and the strength of the program itself as it continues to encourage students to achieve in sport," says Warry.
Filed under: Sport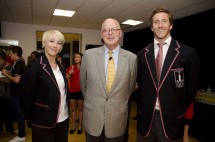 View by category