Campus and community join forces for a sporting world record
15 March 2013
Macquarie University will attempt a world record for the longest consecutive Touch Rugby Football game this April, with over 350 participants gearing up for a massive 30-hour initiative on the University campus.
The event, open to anyone over 16 years, will see two teams continuously playing throughout Thursday 4 and Friday 5 April on the lawn near Macquarie's iconic lake, starting with kick-off at 10.30am Thursday.
It's an impressive goal for the local touch community, who will be looking to beat the current record in the Guinness World Records, set at 27 hours in Queensland during September 2010.
As a local sporting institution, Macquarie is determined to tick all the boxes for a place in the record books, with the match played under the Touch Football Australia Rules and an official referee.
"It's going to be a big community effort to reach the 30 hours," says Cindy Hoad, General Manager Sport and Recreation. "We're inviting students, sports clubs, staff and touch footy aficionados from all walks of life to get involved in this great event. Participants can play for just 30 minutes or play for hours!"
With the option to play in the overnight games, and camp out on the campus, it's a fun and unique way for participants to spend time with their sporting teams, group of friends or work colleagues while contributing to the big goal.
A carnival atmosphere around the game itself will cater for young and old with a barbeque, entertainment and all-important warm up sessions with fitness instructors from the Macquarie University Sport and Aquatic Centre. The event will also raise money for the University's chosen charity, with a gold coin donation from participants and spectators.
According to Touch Football Australia, the game has over 400,000 registered members and an additional 500,000 children participating in school programs and related activities. This places the sport among the top participant based, organised sports in Australia.
To register for this special event, teams can sign up online or over the phone with Macquarie University Sport, with a nominated team of a minimum of 7 players and unlimited substitutes. Individuals can also come along and be placed into a team that matches their skill level on the day of the event.
To find out more, visit the event website or call (02) 9850 4198.
Filed under: Campus news Sport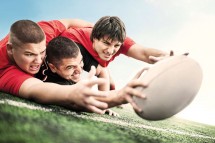 View by category