Researchers look at how the transmission of a folktale illustrates connections between human genetic and cultural information
6 February 2013
Folktales share some important similarities with genes. Like genes, folktales are often inherited from parents and change a little bit before being passed onto the next generation.
Because of parallels such as these, methods and theories used to analyse biological data are increasingly being applied to study the evolution of human culture.
New research published this week in the international biology journal Proceedings of The Royal Society B lend further weight to support this cultural evolutionary approach.
Macquarie University cognitive scientist Robert Ross and two collaborators sought to quantify the influence of geography and ethnolinguistic boundaries on a folktale that is familiar to many generations of families in Europe.
The origin and early history of this folktale – called the Tale of the Kind and the Unkind Girls by folklore scholars – is shrouded in mystery. Neverthless, it has repeatedly appeared in some of the earliest and most influential folktale collections, such as the Children's and Household Tales by the Brothers Grimm. One of their versions, titled Mother Holle, tells a moralistic tale of a cruel widow, her poorly treated yet kind stepdaughter, and her spoilt and unkind biological daughter. After a magical adventure, the stepdaughter is rewarded for her hard work by being covered in a shower of gold. Subsequently, the biological daughter attempts to gain the same reward, but is punished for her selfishness and is instead covered in pitch.
Adapting theory and methods developed by population geneticists, the researchers analysed 700 variants of this tale in 31 European ethnolinguistic populations.
"We were surprised and delighted to discover that geographic distance and ethnolinguistic boundaries each help explain predictable patterns of variation in this folktale across Europe. Even more striking was our finding that the effects of geographic distance and ethnolinguistic boundaries are stronger for this folktale than for genes," Ross said.
Ross said the team's findings highlight the importance of geography and population boundaries in models of human cultural variation and point to key similarities and differences between evolutionary processes operating on human genes and culture.
Filed under: Humanities Research Social sciences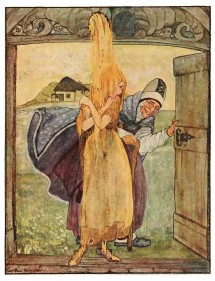 Interview contact
Robert Ross
(02) 9850 2992
View by category