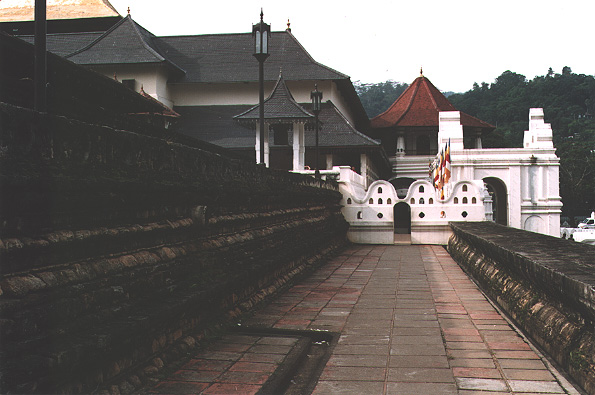 The Palace of the Tooth Relic
The Temple of the Tooth, or Dalada Maligawa, is the pre-eminent temple in Sri Lanka. It is located on the northern boundary of the Kandy Lake and houses the left eye-tooth of the Buddha. The temple and the sacred relic are keys to understanding the history and character of political power in Sri Lanka.
The King's Palace should be visualised not as an isolated building but as part of a whole complex. It included the facilities for meeting all the complicated formalities of the Kandyan Court - courtyards, audience and music halls, Queen's palace and baths, residential quarters for court officials and soldiers, administrative buildings and storehouses; as well as the precincts of the Temple of the Tooth.
The Octagon or Pattirippuwa is the most conspicuous building in Kandy. It was constructed by Sri Wickrama Rajasingha, the last king of Kandy, as an addition to the two-storeyed Temple of the Tooth which now forms the 'Inner' Temple. The king addressed his subjects from the balcony of the Octagon, as well as viewing the various temple festivals and peraheras (see parade in foreground).
The ornamental parapets in the Dalada Maligawa were designed to resemble cloud-drift and is called walakulu bemma as distinct from the around the lake was designed to resemble a wave-swell or diyareli bemma on the walls surrounding the Kandy lake.
Photograph by Robin Walsh © 2002


Copyright © Macquarie University 2011