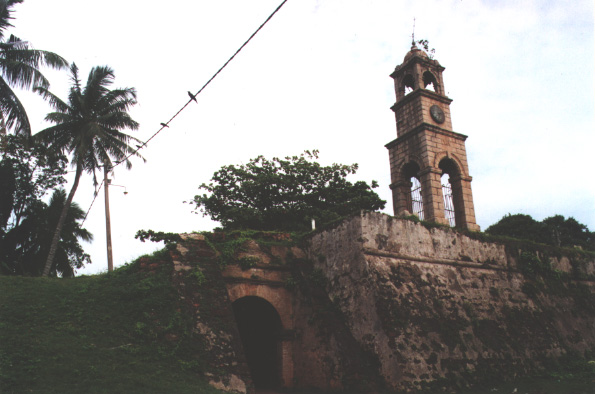 Entrance Gate: Negombo Fort
Coastal fortress located approximately 30 kilometres north of Colombo. Strategically sited beside Negombo lagoon and protected by water on three sides.
In February 1796 the fort at Negombo was captured by the British without opposition; soon afterwards they marched south to besiege Colombo. In the late C19th the British authorities decided to demolish the fort and recycle the masonry to construct the jail that still stands on the site.
All that remains of the original Dutch fort is a section of the eastern rampart, with two mounds at its northern and southern extremities representing the location of earlier bastions. The banked-up roadway leading to the main arched gateway has obliterated any trace of the original moat or the drawbridge that provided entry to the fort.
The gateway, located midway between the two bastions, is deeply recessed and above the arch there is a rectangular granite slab bearing the date 1678 as well as a decorative gable. The clock tower raised above the northern rampart was constructed to commemorate Queen Victoria's Jubilee in 1899.
Photograph by Robin Walsh © 2002


Copyright © Macquarie University 2011