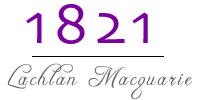 The Arrival of Sir Thomas Brisbane:
10 February 1821
UNDER the Shipping Intelligence will be perceived the annunciation of the arrival from England, on Wednesday last, of the merchant ship Royal George, Captain POWDITCH, on board of which vessel has arrived, His Excellency Major General Sir THOMAS BRISBANE, K.C.B. &c. &c. &c. with Lady BRISBANE and infant Daughter and Miss McDOUGALL, Sister to Her Ladyship, together with His EXCELLENCY'S Staff.
Upon the vessel coming to an anchor in Sydney Cove, a salute of 19 guns was fired from Dawes' Battery; and immediately afterwards His Honor Lieutenant Governor ERSKINE proceeded on board, to pay his respects to HIS EXCELLENCY, and to greet Him on his safe arrival in New South Wales. — HIS EXCELLENCY was pleased to signify his intention of landing on the following morning.
On Thursday morning, at ten o'clock HIS EXCELLENCY left the 'Royal George' under the usual salute due to his distinguished rank, and landed at the private stairs on Bennelong's Point; where he was received by His Honor the LIEUTENANT GOVERNOR and other Officers of the Colony, from whence he walked to Government-house accompanied by Lady BRISBANE, Family and Staff; where Mrs MACQUARIE in the absence of His Excellency Governor Macquarie warmly welcomed HIM and Her Ladyship. The Full Band of HM's 48th Regiment paraded the lawn in front of Government-house, playing those soothing and martial airs that tended to give a zest to that curiosity as well as sensibility naturally excited in the minds of ALL, upon so important and interesting an occasion. At the desire (we believe) of HIS EXCELLENCY, the gates were thrown open, for the admission of the Australian Public, whose numbers quickly o'erspread the walks around the domain, in order to catch a glimpse of our future GOVERNOR — the Representative of Our Gracious and Beloved SOVEREIGN! — Carriages having been in readiness, His EXCELLENCY and FAMILY left the capital for Parramatta, in which town, we are given to understand, it is the design of His Excellency Sir THOMAS BRISBANE to reside, during the absence to the Northern Settlements of His Excellency Governor MACQUARIE, whose return to the Seat of Government we anticipate again to have the pleasure of speedily hailing.
Source
Sydney Gazette 10 November 1821 p.1a.