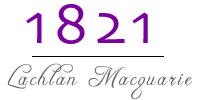 The Departure of Commissioner Bigge:
8 February 1821
The public embarkation of His Honor the Commissioner of Enquiry took place on Thursday, in pursuance of the Government and General Orders of Saturday last, the 3d instant. HIS EXCELLENCY the GOVERNOR and COMMANDER IN CHIEF, and His Honor the Lieutenant Governor (ERSKINE), accompanied His HONOR the COMMISSIONER to the private landing place on Bennelong's Point. All the Civil, Military, and Naval Officers, at Head-quarters, attended the procession, which was preceded by the full Band of His Majesty's 48th Regiment, the two flank companies forming a line from Government-house to the waterside. The Governor's barge was in attendance to receive HIS HONOR, who was accompanied on board by HIS EXCELLENCY, and Master Macquarie, The Battery at Dawes' Point saluted on the interesting occasion; in which His Majesty's store-ship Dromedary joined. Upon taking leave of His Honor the Commissioner, HIS EXCELLENCY received a parting salute from the Dromedary.
His Majesty's store-ship Dromedary, — SKINNER, Esq. Master and Commander, with the Honorable the COMMISSIONER of ENQUIRY on board, unmoored early yesterday morning, and dropped down near Pinch-gut; upon which occasion the new battery at Fort Macquarie, fired a salute of eleven guns.
Source
Sydney Gazette 10 February 1821 p.3a.