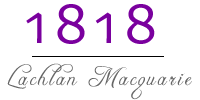 Description of the new Macquarie Lighthouse, South Head.
MACQUARIE TOWER and LIGHT, is situated on the highest Part of the Outer South Head of Port Jackson Harbour, in Latitude 33° 5' 40" S. and Longitude 151° 16' 50" E. from Greenwich. The Height of the Light from the Base is 76 Feet; and from thence to the Level of the Sea 277 Feet, being a total Height of 353 Feet. — The Inner South Head bears from the Light-House N. by W. ¾ W. distant 1¼ Miles. The Outer North Head bears from it N. by E. 2 Miles. The Inner South Head and Outer North Head, lay N. E. ½ E. and S. W. ½ W. of each other, distant 1 1-10th Mile. The Light can be seen from S. by E. to N. by E. Those lines of Bearing clearing the Coast line ½ a point each way, and may be discovered from a Ship's deck on a clear Night, 8 Leagues. The North End of the Sow-and-Pigs Reef bears from the Inner South Head, S. W. by W. ½ a Mile.
N.B. The Bearings are Magnetic, and the Distances computed in Nautic Miles. The Variation 9° Easterly.
(signed) J. OXLEY, Surveyor General.
Sydney, New South Wales,
29th April, 1818.
Provenance
Sydney Gazette 13 June 1818 p.1a.