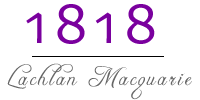 GOVERNMENT AND GENERAL ORDERS.
Head Quarters, Sydney
Saturday, 10th January, 1818.
THE Anniversary of her Majesty's Birth-Day happening this Year to fall on a Sunday, the Celebration of the same must necessarily be postponed till the Day following; namely, Monday the 19th Instant; which is accordingly directed to be observed as a Holiday throughout the Territory of New South Wales and its Dependencies ; and all the Government Gangs of Artificers and Labourers are to be exempted from Work on that Day.
At Sun-rise, on Monday the 19th Instant, the Royal Standard is to be hoisted at Fort Phillip, and the Union at Dawes's Battery. At Twelve o'Clock at Noon a Royal Salute is to be fired from Dawes's Battery; and the 48th Regiment, paraded under Arms in Hyde Park, will fire three Vollies in Honor of the Day, immediately on the Conclusion of the Royal Salute from the Battery.
HIS EXCELLENCY the GOVERNOR will hold a Levee at the Government House, at One o'Clock on Monday the 19th Instant, for the Purpose of receiving the Congratulations of the Civil and Military Officers of Government, and of the other Gentlemen of the Colony, on this auspicious Day. The Deputy Commissary General will order the usual Donation of Half a Pint of Spirits, and an extra Ration of One Pound of Fresh Beef, to be issued to each effective Non-commissioned Officer and Soldier bofth at Head Quarters and the Out-stations; and also an extra Ration of One Pound of Fresh Beef to each Mechanic and Labourer in the immediate Service of Government, from the King's Stores, in Honor of the Day.
By Command of His Excellency,
The Governor,
H. C. Antill, Major of Brigade.
Source
Sydney Gazette 17 January 1818 p.1a.