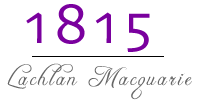 Bungaree and the George's Head Settlement:
31 January 1815
On Tuesday last, at an early hour, HIS EXCELLENCY the GOVERNOR and Mrs. MACQUARIE, accompanied by a large party of Ladies and Gentlemen, proceeded in boats down the Harbour to George's Head. The object of this excursion, we understand, was to form an establishment for a certain number of Natives who had shewn a desire to settle on some favourable spot of land, with a view to proceed to the cultivation of it; — The ground assigned them for this purpose (the peninsular of George's Head) appears to have been judiciously chosen, as well from the fertility of the soil as from its requiring little exertions of labour to clear and cultivate; added to which, it possesses a peculiar advantage of situation; from being nearly surrounded on all sides by the sea; thereby affording its new possessors the constant opportunity of pursuing their favorite occupation of fishing, which has always furnished the principal source of their subsistence.
On this occasion, sixteen of the Natives, with their wives and families were assembled, and HIS EXCELLENCY the GOVERNOR, in consideration of the general wish previously expressed by them, appointed Boongaree (who has been long known as one of the most friendly of this race, and well acquainted with our language), to be their Chief, at the same time presenting him with a badge distinguishing his quality as "Chief of the Broken Bay Tribe," and the more effectually to promote the objects of this establishment, each of them was furnished with a full suit of slop clothing, together with a variety of useful articles and implements of husbandry, by which they would be enabled to proceed in the necessary pursuits of agriculture; — A boat (called the Boongaree was likewise presented them for the purpose of fishing.
About noon, after the foregoing ceremony had been concluded, HIS EXCELLENCY and party returned to Sydney, having left the Natives with their Chief in possession of their newly assigned settlement, evidently much pleased with it, and the kindness they experienced on the occasion.
Provenance
Sydney Gazette 4 February 1815 p.1b-1c.
Background Note
There are a number of significant aspects relating to this event at George's Head on 31 January 1815: the establishment of a designated area for Aboriginal settlement in Sydney; the provision of European goods and clothing; and the presentation of the first Aboriginal 'breastplate' (to Bungaree) as a means of nominating him as a 'chief' of his tribe. These initiatives reveal more about European expectations than they do about indigenous Australian values and culture. Lastly, there is no surprise in noting that this activity took place as part of Lachlan Macquarie's 54th birthday celebrations.
In December 1816 Macquarie began a yearly ritual of presenting breastplates (also called gorgets or king plates) to Aboriginal men at Parramatta. The breastplates were derived from military gorgets worn by officers, and they were usually crescent-shaped; and produced in a variety of styles and sizes. At least thirty-eight (38) 'chiefs' were distinguished in this way by Macquarie in the period until the end of his governorship in November 1821. [see: Cleary, Tania. Poignant Regalia: 19th century Aboriginal breastplates & images: a catalogue of Aboriginal breastplates held in public, regional and private collections in New South Wales, Victoria, Tasmania, Queensland, South Australia, Western Australia and the Australian Capital Territory. Glebe, N.S.W.: Historic Houses Trust of New South Wales, c1993 p.10].