Elizabeth Macquarie
(1778 - 1835)
---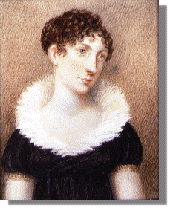 Elizabeth Henrietta Macquarie (nee Campbell of Airds), was the second wife of Lachlan Macquarie. They were married in Holsworthy, Devonshire on 3 November 1807. She was a distant cousin, and it is clear from Lachlan Macquarie's journals and letters this relationship was not attended with the same passion that he had felt for Jane Jarvis, his first wife who had died in China in 1796. Nevertheless, he came to love and admire Elizabeth.

She was a devoted wife, though clearly strongwilled and determined, with fixed notions about life and morality. She was an intrepid traveller, and though dogged by illhealth for much of her life, she accompanied her husband on all of his major journeys throughout New South Wales and Tasmania.

Even after Lachlan's death in 1824, she continued to work tirelessly to promote the memory of his achievements firstly, in her stubborn refusal to accept a widow's pension from the British Government until they agreed to publish Macquarie's [1823] reply to the allegations made in the Bigge Inquiry regarding his administration of New South Wales; and secondly, in making the claim on Macquarie's tombstone inscription that that his character and services to society 'rendered him truly deserving the appellation by which he has been distinguised: THE FATHER OF AUSTRALIA. '

Between 1825 -1828 she lived a frugal existence in Surrey, and later, Middlesex, while Lachlan Jnr. attended school at Woodford; and each summer she took him back to Scotland to stay on their 'Jarvisfield' estate on the Isle of Mull. In 1828 she learned that her favourite friend Miss Henrietta Meredith had bequeathed her £2000 as well as a small house in London at 58 Upper CharlotteSt near Portland Place. She lived here throughout 1828-1829 while Lachlan Jnr attended school in Finchley. In 1830 she moved to Aberdeen where she rented a house for six months at Sunny Bank (at 7 guineas a month).

In 1831 Lachlan (now aged 16) insisted on joining the army and Elizabeth purchased an ensigncy for him in the 42nd Regiment. He joined his regiment at Birmingham and she returned to Mull to take up residence at 'Jarvisfield'. She found that conditions on the estate were far from ideal; for although she had the use of Gruline House for life, James Drummond (8th Viscount Strathallan, and guardian of Lachlan) insisted as a trustee that she buy her cattle from the Macquarie estate whenever she wanted to stock her farm.

In 1827 she had given power of attorney to Richard Fitzgerald over her shares in the Bank of New South Wales and the livestock that she had left on Henry Antill's property at Picton. He ascertained that she had £500 in the Bank and that her stock stood at 950 head of cattle. Between 1829 - 1835 Fitzgerald sent her £869 (approx. £145 per annum).

Elizabeth Macquarie died peacefully at Gruline House on 11 March 1835 (at 2 pm) aged 56.
---
Portrait:
Miniature on ivory of Elizabeth Macquarie.
(Artist unknown)
3 1/4" x 2 5/8"
Undated
Original held by Mitchell Library, State Library of NSW.
Reproduced with permission.
Provenance:
One of three miniatures (ML Ref MIN 236-238) that were presented to the Mitchell Library in 1965 by Miss M. Bather Moore and her brother T.C. Bather Moore, descendants of Lt. John Watts, Macquarie's aide-de-camp (1814-1819).
---
Copyright © 1998-2009 Macquarie University.
All rights reserved.