Studying how critical communication skills develop
Learning to communicate effectively lays the foundations for life-long learning, economic and social participation and future wellbeing.
Language and literacies pave the way for a lifetime of opportunities; they enable individuals to understand and evaluate information, express themselves, interact productively with others, and think critically and creatively.
The Language and Literacies Research Group is building a deep understanding of how individuals learn to read, write, talk and listen – and how these critical foundational skills can be further developed. Uniquely, we are investigating language and literacies across all the life stages, from birth, throughout formal education and into the adult years.
By conceptualising language and literacy learning as a dynamic, life-long process, our research group is delivering new evidence in key areas like:
how babies build their vocabularies
how teenagers communicate via images
how to support literacy for learners with special needs
how to enable adults from non-English speaking backgrounds to participate fully in their new lives.
We are seeking new ways to address the complex and multi-generational challenges of poor literacy levels and to promote the life opportunities that improved language and literacy skills offer.
Many Australians are inadequately equipped
Some 7.3 million Australians are hampered in their daily lives by poor literacy skills. The World Literacy Foundation estimates that this costs Australia $25 billion a year, both in unfulfilled human potential, and in the resulting costs of socioeconomic inequality, health and welfare.
Research suggests Australia is currently locked in a vicious cycle. Poor literacy skills underlie socioeconomic disadvantage, but so too does disadvantage underlie poor outcomes at school. Students from disadvantaged backgrounds lag well behind their more privileged peers in reading literacy. The gap is growing and exceeds similar socioeconomic disparities in comparable advanced economies, suggesting Australia's education system is currently less effective in overcoming a child's prior disadvantage.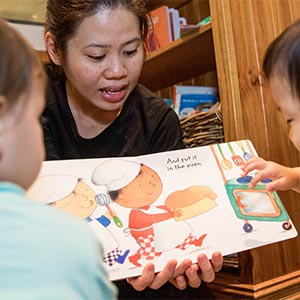 Although Australia has many examples of excellent teaching, we have too often been guided by assumptions rather than rigorous evaluation or research. A stronger evidence base to help improve outcomes for our diverse range of learners is both a social and an economic priority. As every learner is different, we need to understand how, why, when, and in what circumstances certain teaching approaches work best. We also need to recognise and understand the myriad of complex interactions that can support or frustrate learning at home, in childcare centres, schools, tertiary education and in the community.
As 21st century communication is rapidly evolving, we also need to look well beyond conventional reading and writing to incorporate different media and modes, including popular culture, new technologies and community resources.
By conceptualising language and literacy learning as a dynamic, life-long process of empowerment, we can begin to combat the corrosive socioeconomic disadvantages of poor literacy skills.
Our researchers
Sarah Carlon: Special education; early literacy; early intervention and parent decision-making
Alice Chik: Narrative inquiry into life-long and cross-generational language learning; popular culture and technologies in second language learning; multilingualism
Kathy Cologon: Inclusive education and social inclusion; Disability Studies; Child and family perspectives;Professional reflexivity and teacher change; Literacies; Early Childhood
Emilia Djonov: Early language and literacy learning; multiliteracies; social semiotics and educational linguistics; (critical) multimodal discourse analysis
Janet Dutton: Secondary students' writing across KLAs; impact of high stakes testing on literacy pedagogy; identity texts and second language learning
Ruth French: Literacy education; teaching and learning of knowledge about language; educational linguistics; children's literature; curriculum and pedagogy (primary education)
Sally Howell: Special education; Reading difficulties and other disabilities
Kerry-Ann O'Sullivan: Literacy policy and curriculum; English teachers' professional identities, pedagogies and meeting of competing demands; critical discourse analysis
Sue Ollerhead: Language teacher education; Multilingual education; Classroom pedagogy; Language policy; Literacy across the curriculum; Oracy development in schools
Rauno Parrila: Reading instruction, interventions and difficulties; reading acquisition; learning difficulties across life-span; cognitive and socio-cognitive compensation of learning difficulties; special and inclusive education
Mary Ryan: Writing pedagogies and young learners' identity in school-based contexts; literacy in professional contexts; combining critical discourse analysis with various theories (especially socio-spatial and reflexivity theory)
Hua-Chen Wang: Cognitive processes in reading; Learning to read in children and adults; Reading difficulties and their treatments; Learning to read in different writing systems and in bilingualism