Congratulations to our amazing MLS team (Aidan O'Callaghan, Fraser Lawrence and Michael Docker) for their recent success in the 6th RMLNLU International Media Law Moot in Lucknow, India.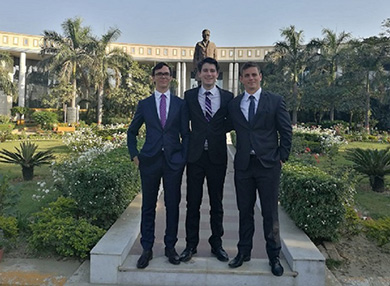 Facing a total of 49 teams from India and across the globe, the MLS team won each of the Preliminary, Quarter-Final, and Semi-Final rounds, only to be defeated in the Grand Final by a split decision of 3-2. Macquarie University was the most successful non-Indian team to participate.
The team's submissions were heard by a very esteemed panel of judges including the Honourable Mr. Justice Devendra Kumar Arora of the Allahabad High Court and Chief Justice of the State of Uttar Pradesh.
Special congratulations to Aidan O'Callaghan for being awarded 'Best Oralist', adding even further to the outstanding achievement.
Page owner
Last updated: 17 Dec 2019