Our publications
Our publications
Undergraduate course booklets
Our booklets cover our major degree programs, and contain a wealth of information on each subject area, our available degrees, study options, any accreditation requirements, related subject areas, recommended prior knowledge and career options.
You can either download a copy or order them in hardcopy format using the form below.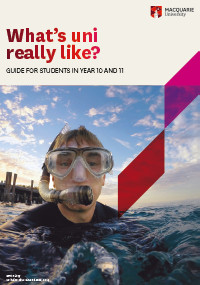 What's uni really like?
This guide is for Year 10 and 11 students and outlines the unique opportunities available at Macquarie University, as well as course options, uni lingo and what life as a student is like.
What's uni really like? Year 10 guide [PDF 0.5MB]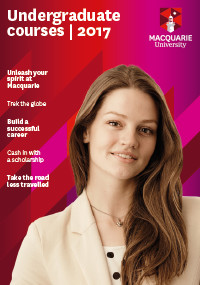 Undergraduate course guide
This guide contains specific degree information for 2018, including ATAR cut-off, duration of course, UAC doe and what students will study, as well as some career options. It also contains information on entry pathways, bonus points, scholarships, upcoming events and more.
Undergraduate courses guide [PDF 12MB]
Engaging the world
Macquarie is distinctly different to other universities. This guide explores all the learning and research opportunities your students will be a part of.
Order hardcopy publications