Campus tour nested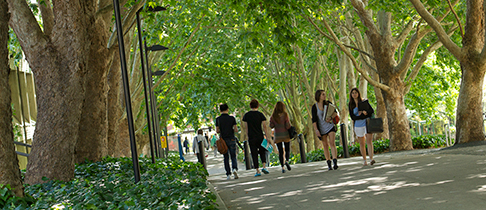 Come and see us
You can never truly know if a uni is right for you until you visit in person and get a feel for the campus. At Macquarie University, we're ready to help you get to know your future home.
What will you see?
You'll start to see what makes Macquarie special with a brief presentation, followed by a tour of the following destinations:
Various lecture theatres, where you can picture yourself soaking in all that future knowledge
Our award-winning library, which features the country's first library-based automated storage and retrieval system
MUSE, a flexible and creative space where individual study coexists with group work, encouraging you to learn in different ways
Highlights of our services and facilities to support you in your studies as well as in life.
The Sport and Aquatic Centre, which offers a first-class health club, swimming pools, sport fields and courts, a gymnastics hall, and more
The Campus Hub, where you can explore the many shopping and dining options available
When you book your tour, you can also request to see areas of the campus that interest you, including the accommodation options, galleries and museums.
When can you come?
Tours run for 90 minutes. We offer several dates to suit your schedule:
11 April from 10:30am to 12pm
21 June from 4pm to 5:30pm
11 July from 10:30 to 12pm
17 November from 4pm to 5:30pm
How do you get here?
Getting to Macquarie is easy, whether you choose train, bus, car or bike. More details about tour locations and parking will be provided when you register.
Have any other questions?
For all other inquiries please contact Student Connect on 9850 6410 or submit a question.
International visitors
We invite international visitors to contact Macquarie International.