AMT Conference 2015
9th Australian Media Traditions Conference
Thursday 3 - Friday 4 December 2015, National Film and Sound Archive, Canberra
---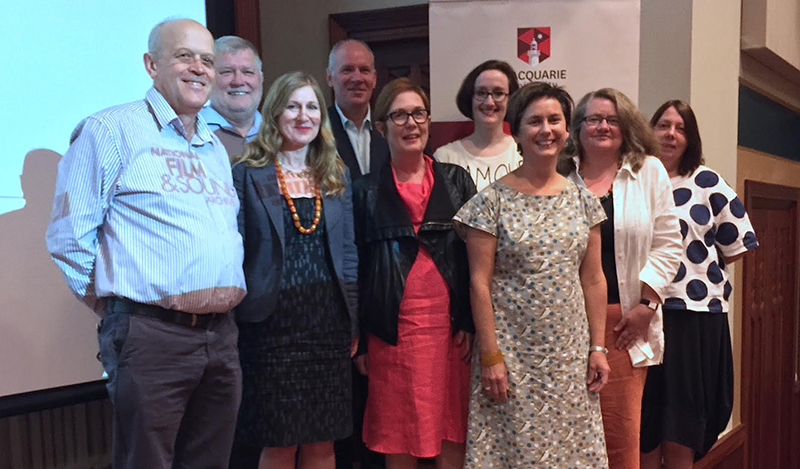 Past and present AMT convenors: Tom O'Regan, Peter Putnis, Virginia Maden, Jock Given, Sybil Nolan, Bridget Griffen-Foley, Jeannine Baker, Margaret Van Heekeren and Trish Payne.
Event details
PROGRAM
The conference program is available to download here.
THE FOXTEL PRIZE FOR BEST STUDENT PAPER ON AUSTRALIAN TELEVISION HISTORY
Foxtel, in its 20th anniversary year, is offering a $500 prize for the best paper on Australian television history presented by a student at the conference. The prize will be judged by the Centre for Media History and the National Film and Sound Archive.
KEYNOTE SPEAKERS
We are delighted to announce the keynote speakers at the forthcoming AMT conference:
'What is broadcasting history? New approaches to telling the story of the BBC'
Professor Hendy is a media historian interested in the role of sound, images, and communication in human cultures across time. He recently completed a Leverhulme Research Fellowship on the theme of Media and the Making of the Modern Mind. As part of that project, he wrote and presented Noise: a Human History, a 30-part series for BBC Radio 4, which was broadcast in 2013. His books include Life on Air: a History of Radio Four (Oxford: Oxford University Press, 2007), which won the Longmans-History Today Book of the Year Award in 2008. In 2013, he published Public Service Broadcasting (Palgrave) and Noise: a Human History of Sound and Listening (Profile).
'Going beyond the national: Chances and challenges of doing transnational and global entangled media history'
Hans-Ulrich Wagner is a Senior Lecturer at the Universität Hamburg and a Senior Researcher at the Hans-Bredow-Institute for Media Research in Hamburg. He is head of the Research Centre Media History, a co-operative project of both the Universität Hamburg and the Hans-Bredow-Institute. Since the mid-90s, starting with his PhD work on radio plays in the years of occupied Germany, he has worked in the field of media and communication sciences including the history of Public Service Media, radio and sound studies, projects on media and memory as well as mediated space-related identities. Since 2013 he is steering - along with colleagues in Lund/Sweden and Bournemouth/UK - the research network Entangled Media Histories (EMHIS).
CALL FOR PAPERS
The Centre for Media History, Macquarie University and the National Film and Sound Archive invited submissions for papers and panels on all aspects of media history, including journalism, audiences, technology, photography, advertising, public relations and media institutions.