About us
The Centre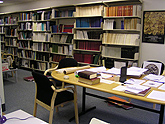 The Australian Centre for Ancient Numismatic Studies is an internationally recognized leader in the study of ancient numismatics. It is one of the few university-based institutions in the world which offers facilities and financial support for the study of this discipline. Among its resources are a dedicated numismatic library with extensive journal holdings (in addition to the resources of the university library for the teaching of ancient history). Its numismatic collections, numbering over 3,000 coins, are of world class standing in the areas of the Greek cities in South Italy, the Roman Republic, and the coinages of the Emperor Hadrian.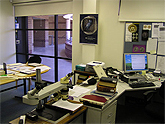 ACANS has a permanent director. It has an annual senior visiting fellow and a Gale lecturer in numismatics. Both are in residence at ACANS for a defined term. It also annually appoints two junior fellows who are students enrolled in a postgraduate degree. In addition, ACANS is able to drawn on the expertise of the staff of Macquarie University's Department of Ancient History.
Numismatics is presented as a postgraduate unit and incorporated into the curriculum of undergraduate units (notably 'Archaeology and Society') offered by the Department.
ACANS is housed in Building X5B, room 341. This is next to the Museum of Ancient Cultures in which the Centre's exhibitions of coins are displayed. The Centre's room offers a working research environment with access to computers, the library and the collections.
ACANS sponsors and conducts an energetic program of research. A primary focus has been the on-going publication of the different Gale collections now held by ACANS (see Gale and ACANS Collections). The director of ACANS, Dr K. A.Sheedy, is the editor of the Sylloge Nummorum Graecorum Australia project. The aim of this venture is to publish all ancient Greek coins in Australian public collections.
Aims and objectives
Neapolis (modern Naples);
c.326/317-290 BC; silver
didrachm (7.3g). Head of a
nymph (Parthenope). Gale Coll.
The mission of the Australian Centre for Ancient Numismatic Studies is to promote research in the field of ancient numismatics, and to thereby further the study of ancient history. Its objectives, as stated in the Centre's constitution are:
To establish a Centre of international excellence in the study of ancient numismatics.
To act as a major linkage to national and international research programs in the study of ancient numismatics.
To facilitate reciprocal visits by staff members with other Universities, Museums or similar bodies in support of the Centre's objectives.
To assist qualified Macquarie University students to participate in the study of ancient numismatics both at Macquarie University and elsewhere.
To arrange publication of the results of the Centre's research, and to publish catalogues of Macquarie University's ancient coin collection.
To arrange lectures on ancient numismatics for Macquarie University Ancient History students.
To undertake such ventures, incidental or conducive, that would bring about the achievement of the above objectives.