Lurion De Mello, Business and Economics, Macquarie University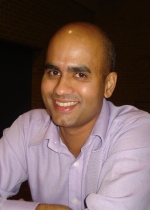 Title: Doctor
Position:

Senior Lecturer - Department of Applied Finance and Actuarial Studies
Program Director for Bachelor of Applied Finance

Qualifications: BCom (Ec,mkt,HONS) Curtin, MCOM (Fin), ECU, PhD (Ec) MQ)
Contact Details
Ph: (+61-2) 9850 9179
Fax: (+61-2) 9850 9481
Room: 515, building: E4A
Areas of Expertise
Energy Economics
Financial Economics
Investments
Econometrics of Financial Markets
Profile
Lurion completed his PhD in Economics at Macquarie University in 2012 after arriving in Sydney in 2007. He has been a full-time faculty member in the department of Applied Finance and Actuarial Studies at Macquarie University since 2011. He held prior academic appointments at KFUPM (Saudi Arabia), Curtin University and Edith Cowan University. His has teaching experience in all areas of finance, economics, econometrics and business statistics. Additionally, during his appointments at Curtin and ECU, he delivered postgraduate courses at institutions in Singapore, Indonesia, Hong Kong and Malaysia as part of the international collaborative programs. His research interests are around energy economics, econometrics of financial markets, corporate finance and behavioural finance. Lurion has published papers in internationally refereed high impact journals including the top three in the field of Energy Economics (Energy Economics, Energy Journal & Energy Policy), Global Finance, Journal of Energy and Development, Journal of Applied Corporate Finance and Accounting and Business Research. He is a recipient of the MQNS grant, MQ Strategic Priority Grant and two Participation and Community Engagement (PACE) grants. In addition to his teaching and research commitments Lurion is also the Program Director for the Bachelor of Applied Finance degree. He also designed and delivered capstone subjects for the Bachelor of Commerce Finance degree and for the Master of Banking and Finance degree. He also mentors students through the faculty of business and economics First-STEP mentoring program.
Teaching Interests
Lurion has taught undergraduate finance and economics at all levels for the past 18 years. His main teaching areas include corporate finance, portfolio management, introduction to finance, microeconomics and macroeconomics. Since 2011 he has been the unit convenor or the BApp Fin capstone subject AFIN310 (Issues in Applied Finance) where he liaises with industry professional in delivering this award-winning subject (2012 Dean's Award for Program Development). In 2015, he was the recipient of the Dean's award for Curriculum Innovation for the design and delivery of the subject AFIN312 (Issues in Corporate Finance). This subject is delivered in conjunction with the big four accounting firm PwC (Sydney). Given this successful outcome, in 2016 he was invited to develop and deliver the Master of Banking and Finance capstone subject AFIN899 (Current Issues in Banking) which he delivered in session 1, 2017. Further information on these courses can be found on[units.mq.edu.au]units.mq.edu.auand in the handbook.
Research Interests
For the past 20 years Lurion's research has predominantly focused around commodities with initial research focusing around mineral economics during his honours year at Curtin University. He then moved into the area of upstream and downstream hydrocarbon market in particularly the price dynamics between various petrochemical value chains. His research in energy economics has also touched the on the impact of oil prices and its shocks on a country's economy. He has also published papers on the impact of Co2 emissions on the economy. His research has been published in highly ranked journals such at Energy Economics (A*), Energy Journal (A) and Energy Policy (A) and Journal of Applied Corporate Finance (A). In recent times his research has expanded to the area of behavioural finance with publications in Accounting and Business Research (A) and Journal of Behavioral and Experimental Finance (B). For a full list of publication please see his Google Scholar profile and his MQ website
Research grants
Macquarie University Strategic Infrastructure Scheme, Jan 2015 ($4,195), with Stefan Trueck, Chi Truong, Roselyn Joyeux, George Milunovich, Fatemah Nazifi & Ram Ranjan.
PACE Development Grant, July-Dec 2014 (AUD $9962.53), with Leanne Carter.
Macquarie University New Staff Grant Scheme, Jan-Dec 2012 (AUD $15,700)
Macquarie University Postgraduate Research Fund, July 2010 (AUD $4,000)
Research awards
Vice Chancellor's Highly Commended Research Award for Excellence in Postgraduate Research Social Sciences, Business & Humanities (As a PhD student at Macquarie University - 2010)
Deans Award for program development (AFIN 310 Issue in Applied Finance, the flagship capstone subject in the Bachelor of Applied Finance at Macquarie University 2012)
Publications
Multiscale Lead-Lag Relationships in Oil and Refined Product Price Dynamics: A Symbolic Wavelet Transfer Entropy Approach (with D. Storhas and A. Singh), Energy Economics (Revise Resubmit).
Factors driving memory fallibility: A conceptual framework for accounting and finance studies (with A. Hellmann and Y. Ding). Journal of Behavioral and Experimental Finance (Fully Accepted – forthcoming).
Polypropylene Price Dynamics: Input Costs or Downstream Demand? (with R. Ripple) Energy Journal, 38(4), 129-144, 2017
The impact of information presentation order on the judgments of non-professional investors (with A. Hellmann, & C. Yeow), Accounting and Business Research, 47(4), 455-470, 2017.
A Practical Guide for Non-Financial Companies When Modelling Longer-Term Currency and Commodity Exposures (with E. Sheedy, S. Storch), Journal of Applied Corporate Finance, 27(1), 2015.
Econometric analysis of Australian emissions markets and electricity prices (with D. Cotton), Energy Policy, 74, 2014.
Does the Environmental Kuznets Curve exist? An application of long-run structural modelling to Saudi Arabia (with A. Masih), Economia Internazionale, 64 (2), 2011.
Oil Price Volatility and Stock Price Fluctuations in an Emerging Market: Evidence from South Korea (R. Masih, & S. Peters), Energy Economics33(5). 2011.
Price dynamics of natural gas and the regional methanol markets (with A. Masih, & K. Albinali), Energy Policy, 38 (3), 2010.
What drives carbon-dioxide emissions: income or electricity generation? Evidence from Saudi Arabia (with A. Masih, M. Al-Sahlawi), Journal of Energy and Development, 33 (2), 2010.
Price dynamics of crude oil and the regional ethylene markets (A. Masih & I. Algahtani), Energy Economics, 32 (6), 2010.
Do Stock Prices Play a Significant Role in Formulating Monetary Policy? A Case Study (with A. Masih), Journal of the Institute for International Economics, 62 (2), 2010.
Systemic risk in the major Eurobanking markets : evidence from inter-bank offered rates (with J. Simpson, & J. Evans) Global Finance Journal, 16 (2), 2005.
Neurosciences: the next frontier of behavioral accounting? (with A. Hellmann). In: Hellman, Andreas (Ed.), Behavioral accounting, New York: Nova Science Publishers, 2013.
The Consumption-Based Capital Asset-Pricing Model (CCAPM), Habit-Based Consumption and the Equity Premium in an Australian Context (with D. Allen). In: Greg N. Gregoriou and Razvan Pascalau (Eds.), Financial Econometrics Modeling Market Microstructure Factor Models and Financial Risk Measures, 2010.
4th Energy Finance Christmas Workshop (EFC14): Einstein Hotel St. Gallen, Switzerland, 11-12 December 2014, Paper titled, "Electricity futures markets in Australia - An analysis of risk premiums during the delivery period."
26th Asian Pacific Conference on International Accounting Issues, Taipei, Taiwan, 26-29 October 2014, Paper titled, "The Impact of Information Presentation Order on the Judgments of Non-Professional Investors."
37th European Accounting Association (EAA) Annual Congress, Tallinn, Estonia, 21-23 May 2014, Paper titled, "The Impact of Information Presentation Order on the Judgments of Non-Professional Investors."
9th International Conference on Applied Financial Economics (AFE) Conference, Samos, Greece, 28-30 June, 2012. Paper titled, 'Econometric analysis of Australian emissions market efficiency"
35th IAEE International Conference, Perth, Australia, 24-27 June 2012, Paper titled, "WTI and Brent crude oil markets: A dynamic analysis of the price differential."
11th IAEE European Conference, Vilnius, Lithuania, Paper titled, 25-28 August 2010, Paper titled, "Price Dynamics of Polypropylene and its Feedstocks in Asia and North West Europe." (Best Paper Award)
Community engagement
Financial Integrity Research Network (FIRN)
International Association of Energy Economics (IAEE)
Accounting and Finance Association of Australia and New Zealand (AFAANZ)
Judging Panel for the Vice Chancellors Research Awards (2012 Present)
Principal Supervisor of Kai Zhang PhD Applied Finance: Estimating high frequency volatility in the Australian equity market and it's applications Full Time (Enrolled Dec 2013)
Principal Supervisor of Christoph Meier PhD (Co-tutelle Mahidol University, Thailand) Applied Finance: Momentum Strategies: The role of intertemporal variation of investor confidence Full Time (Enrolled at MQ Nov 2014 for 2 years)
Associate Supervisor of Yike Ding PhD Accounting: Factors driving memory failure in Accounting Full Time (Enrolled Feb 2013)
Associate Supervisor of Sami Aoude PhD Applied Finance: Risk premiums and derivative pricing in electricity markets
Student Engagement
Mentoring first year students: FBE FIRST step mentoring program (2013 Present)
Mentor and judge in a intra university stock pitch challenge. www.unit.org.au (2012 Present)
Work with industry mentor in assisting and interviewing students for placements in the financial planning industry. (2013 Present)
Editorship / Referee
Referee for Energy Economics, Energy Policy, Economic Modelling
Deputy editor of Energy Science and Technology (Open Access Journal CS Canada)