Services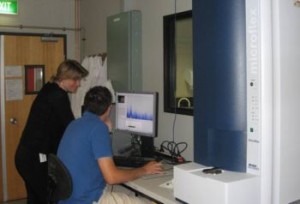 The Australian Proteome Analysis Facility (APAF) at Macquarie University has provided advanced proteomic infrastructure and expertise for Australian researchers since 1995. APAF was the birthplace of the term 'proteomics', and was the world's first dedicated high-throughput proteomics laboratory.
APAF offers proteomics services and collaboration in:
mass spectrometry
analytical protein chemistry
protein arrays
bioinformatics
Macquarie is a foundation member of this Consortium which is based at the University of New South Wales with some facilities at the other Universities and Research Institutes. Microarray analysis and Sanger sequencing (ABI capillary sequencing) and next generation sequencing (Roche 454, SOLiD and Illumina) are based mainly at UNSW.
Some proteomics, robotic liquid handling equipment, a flow cytomer and a microarray reader are located in the Biomolecular Frontiers Research Centre as part of this Consortium.
Other services
PPhoto: Paul Haynes - Analysing sugar proficiency by mass spectrometry